Happy Holidays from Go Inspire Go! 'Tis the season to celebrate, give and inspire those around you as we come to an end of another great year. 2012 has been an eventful year for GIG as we continue to grow, creating three times the amount of original content as last year. We wouldn't have been able to do it without our 30+ volunteers around the globe, the everyday do-gooders we feature, and folks like YOU! To thank you, we wanted to kick off the holidays with 12 Days of Inspiration!
But before we get to the deets, check out our GIG Virtual Holiday Greeting Card to show our gratitude:
Starting Dec. 13, we started counting down to Christmas by sharing one our original GIG stories each day, followed by an inspiring action item we want you to do right away.
We're asking you to share what you were inspired to do via social media.
KIND Snacks has partnered with Go Inspire Go to launch our 12 Days of Inspiration. We kicked off our 12 days of inspiration with a GIG Spark video from across the street from the Ferry Building in San Francisco, giving postcards to strangers and asking them to write a message to soldiers who can't spend the holidays with their family. GaiamTV and Volunteer Match are also joining virtual forces with us to share via their social media platforms each of the 12 days.
Thanks for the love — won't you join us?
Check GoInspireGo.com. We're counting down to Christmas by sharing our inspiring videos for 12 consecutive days on GIG's website and blog.
HOW TO TAKE ACTION
Our goal is to see how many countries we can get to share our campaign.
1. We need you and your friends/community to download this special 12 days GIG logo and post it as your/their profile pic for 12 days.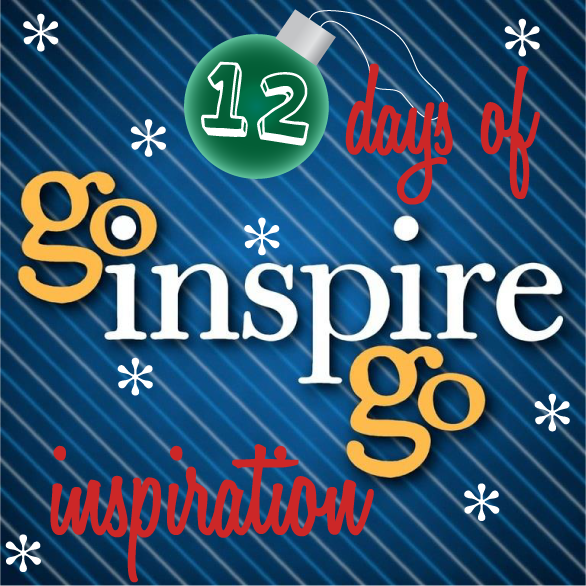 2. Share our FB posts/tweets everyday for 12 days.
We want to see how many countries we can reach with our message.
*Day 1* Inspire to write a letter to a soldier:
GIG teams up with Kind Healthy Snacks to wish our soldiers a happy holiday and express appreciation for all that they've done for our country.
Call to action: Inspire to create and write a hand-written letter to a solider in the military
(Special thanks to Sirima Sataman, of Ink.Paper.Plate for helping us personalize our KIND GIG cards with her letter press. Loved pressing each card by hand!)
---
*Day 2* Inspire to create a GIG Spark:
Toan and some GIGSTERS visit the BAYCAT community as the youth speak up about issues they'd like to address and the changes they'd like to see.
Video: GIG SPARK Inspires BAYCAT Youth to Be The Change
Call to action: Inspire to create a GIG Spark. Use your power and multimedia to be the change.
---
*Day 3* Inspire to create:
Toan sits down to create Thank You cards with founder of Ink.Paper.Plate, Sirima Sataman.
Video: The Best Way to Express Gratitude
Call to action: Inspire to DIY — Get crafty and create something hand made and give it to someone: a family member, friend or stranger!
---
*Day 4* Inspire to smile:
Claire Lemmel goes the extra mile to fulfill her mission of making people, including strangers smile.
Video: "Going the Extra Smile"
Call to action: Inspire to create a ripple of kindness by spreading smiles and holiday cheer! Smile at a stranger.
---
*Day 5* Inspire to make a stand:
Psychiatrist Dr. Ron Holt travels around the world to share his inspiring and empowering story to give victims of bullying who contemplated suicide hope and inspire compassion in bullies.
Video: LGBT Bullying and Suicide: It Does Get Better
Call to action: Inspire to stand up for the truth. If you're being bullied or have thoughts of suicide, there is hope: TheTrevorProject.
---
*Day 6* Inspire to rescue:
Emelinda Narvaez has spent the last 41 years of her life saving the lives of more than 10,000 dogs.
Video: "Woman saves 10,000 Dogs"
Call to action: Inspire to adopt a pet today and give the gift of friendship.
---
*Day 7* Inspire to be a Superhero:
With GIG's help, cancer patient, Nico Castro, 6, uses his superhero powers to help his sick friends celebrate Halloween by collecting more than 200 costumes.
Video: "6-year-old Boy with Brain Cancer Brings Halloween to Sick Kids"
Call to action: Brighten someone's spirit this Christmas season by volunteering at your local hospital, writing a letter to a cancer patient, contributing to Make-A-Wish or sharing this story.
---
*Day 8* Inspire to embark on your personal journey:
Jordan Bower walked from Canada to Mexico to create personal connections and inspire people to put down their gadgets and engage in the world around them.
Video: "Make the Connection: Why One Man is Walking from Canada to Mexico"
Call to action: Inspire to start off the new year by making plans to embark in your personal journey in 2013!
---
*Day 9* Inspire to help the youth create a change:
Through an aluminum can drive and letter writing campaign, Phoebe Russell, then 5, sparked a movement by inspiring her classmates and her community to raise over $3,000 for the San Francisco Food Bank. She enabled the S.F. Food Bank to dole out more than 17,800 meals! Our GIG video helped her multiply her message many times over. More than 150,000 meals served in her San Francisco community so far!
Video: "Kindergartener Inspires 150K + Meals Pt. 1"
Call to action: Inspire to spread the holiday spirit by donating or volunteering at your local food bank.
---
*Day 10* Inspire education: Student Video + GIG Video creates movement, sends 32 Kids to School in Haiti
Julian Cohen, then a high school student in New Jersey, wanted to help Rev. Lemaire Alerte reach his goal of building the first high school in the reverend's hometown of Grande Saline, Haiti. Rev. Alerte was $20,000 short of his $80,000 goal to finish construction.
Little did Cohen know, he would start a movement across the nation. The result: 32 kids would be sent to school in Haiti thanks to his video posted by Go Inspire Go.
Watch how high school students in San Jose, Calif., were inspired to orchestrate goodness and be inspired to do a kind thing for a teacher or organization that aims to educate the community.
Video: "Student Video Sends 32 Kids to School in Haiti. Pt. 3"
Call to action: Inspire to give what you can to support an educational cause. Money is good, but if you don't have the funds, give your time and volunteer.
---
*Day 11* Inspire to move and be present:
Nationally-renowned yoga instructor Kim Shand was born with a birth defect. The prognosis was grim. See how yoga saved her life and how she is giving back. It'll make you rethink yoga and rethink what's going on in your life.
Video: "Rethink Yoga. Rethink You"
Call to action: Inspire to start the New Year re-energized! Start off physically and mentally strong, by engaging in activities that allows your body to reach its greatest potential. Kim is giving away as much free yoga as possible on her YouTube channel. More info: RethinkYoga.com
---
*Day 12* Inspire to give:
GIG's most popular story so far. Meet Jorge Muñoz, school bus driver by day, and Angel in Queens, N.Y., by night. For more than nine years, Jorge has spent half his salary buying groceries and cooking, packaging and delivering home-cooked meals to 150+ people every night. More than 202,800 viewers watched and shared and many used their power to help. You must watch both videos!
Video: A Real Life "Angel" in Queens, New York Pt. 1
Video: "Surprise" Angel In Queens Follow-Up Pt. 2
Call to action: Inspire to lend a helping hand by helping Jorge provide warm meals this Christmas season. Visit www.anangelinqueens.org to see how you can help.
---
*Go Inspire Go is a nonprofit, 501(c)(3), run entirely by Toan Lam and more than 30 volunteers around the world. For more inspiring stories, please check out our YouTube Channel. Here's just a glimpse of our IMPACT. It's because of viewers like you and your generous donations that enable us to bring you these original, authentic stories. Share our message and videos. If you can, please make a donation.
Bless you and our every day street corner-style heroes and organizations — the true heroes who are helping elevate humanity.
Happy holidays,
Toan Lam and Go Inspire Go Team