Founder and Chief Inspirator
Toan Lam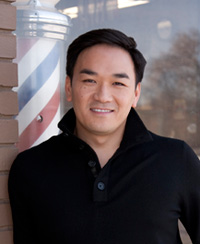 Hey y'all, I'm Toan Lam. Pronounced "Twon," or like "Antoine" without the "An." I'm an inspirator — a storyteller with the goal to inspire you to design a life that is authentic to you.
Inspirator: A word I made up that means "one who inspires and illuminates." It's a power that many people have mirrored back to me. What's your power?
Storyteller: One who spins a tale that wows and excites you to action. (OK, I made the last part up.)
My professional career spans the magical stuff that sparks my curiosity and excites my senses: interior designer, motivational speaker, multimedia consultant, university instructor, former TV reporter and PBS host. I've also been practicing my handstand game.
I used to think it was random that I opened the doors to so many different interests. But now it all makes sense… all our experiences are like scattered dots. When we go through them, we can be more empathetic and compassionate toward ourselves and others, and if we learn from these life lessons, we can connect the dots. The tapestry of my passion work has one thread that connects my mission — to inspire you to discover your power and share it with others. That is JOY.
Here's a little story about my background — I'd love to know more about your story:
I was born in Saigon, Vietnam, and immigrated to America when I was a baby.
My family risked everything for America's promise of a better life and opportunities.
All ten of us were grateful to be living in the same trailer. We moved from one bad neighborhood to the next. I remember feeling despondent, uninspired and powerless in my community filled with violence, hookers, liquor stores, drive-by shootings and the infamous "barber shop" where you can get a "fade" (haircut) by day, drugs at night and attend church in the parking lot on Sunday.
Books were my passport out of those neighborhoods, but I hid my love for reading and writing because no one validated my voice. Kids would tease me for speaking proper English (must have been all those books he read aloud) .
Funny how life works. I grew up without a voice, but am now a determined voice for the voiceless — through a career as a talk show host, TV reporter, college instructor and my passion work.
I was invited by Arianna Huffington to be a regular blogger for her website, The Huffington Post, among others.
I believe everyone is inspired by someone or something. Given my humble beginnings, I'm grateful to create my own dream job title: "Inspirator" — someone who helps people discover their powers to help others.
For an in-depth story about my story, check out this Forbes article.

Kevin Lee
Kevin Lee is GIG's tech guy, helping to put inspiring ideas into action in digital form. He was formerly director of email remarketing for Bankrate Insurance and also held the role of director of data strategy, where he oversaw the company's online insurance applications and testing program. Previously, he was a channel manager at Knight Ridder Digital. Kevin has an MBA from the Ross School of Business at the University of Michigan and a B.S. in Electrical Engineering and Computer Sciences from U.C. Berkeley. In his off hours, he enjoys following baseball, college football and playing word games and logic puzzles.
Denise L. Poon
Denise L. Poon is GIG's media consultant, advising on creative and effective messaging on traditional and digital platforms. Denise is a broadcast producer, multimedia consultant and principal of Creative Streamline, a CUCP-certified DBE/MBE/WBE and SLB for the City of Los Angeles. Her career spans more than 15 years of broad-based communication with content creation for broadcast networks ABC, CBS, CNN, FOX, NBC, PBS and private clients in various formats — breaking news, feature and long format, including DATELINE NBC, and America's Most Wanted. With the Asian American Journalists Association (AAJA), she is best known for many years of leadership for Trivia Bowl, the chapter's signature, high yielding "fun-raising" event for scholarships and professional programming.
Kala Shah
Kala Shah is Go Inspire Go's Chief Alchemist of Partnerships and Programs, directing strategic initiatives at the organizational level as well as growing its grassroots program, the Go Inspire Go Community Heroes club, which cultivates young minds to exercise their power to serve their community. The flagship program at Sun Valley School in San Rafael, Calif., received a prestigious LinkedIn Social Innovation Grant to scale and replicate the program across the Bay Area. Kala has been on a lifelong quest to figure out what drives people to make their unique positive impact in the world. She has worked on national and statewide policy initiatives to advance the 3Es (economy, environment and equity), with organizations to put those sustainability values to practice and as a funder to encourage civic involvement and activism. As a mom to three boys and an engaged community member, she seeks to sculpt young minds about compassion, culture and service. With Go Inspire Go, she has discovered the secret sauce ingredients to motivate social good — one part fun, one part passion and a sprinkle of inspiration mixed with a team of committed and talented social change agents.
Robert Fletcher
Robert S. Fletcher acts as the resident legal guru. Since opening his firm to focus on startup businesses and nonprofits in 2009, Robert has assisted GIG with formation and continues to field questions to ensure the organization runs smoothly. Most recently, Robert helped with the finances and stepped up to act as Treasurer for the non-profit. GIG is one of his first clients and remains one of his favorites.
Jennifer Schumacher
Multimedia specialist with social marketing and agency experience for companies such as Nike, R2C Group and Yahoo, Jennifer is a "Jen of all trades." She can produce, edit and write for broadcast and online. As a producer, editor and writer in broadcast and online, Jennifer strives to inspire people to connect emotionally through innovative technology, sound and storytelling. She is passionate about the connections people create and how they obtain and share their information.
Connie Chan Wang
Connie Chan Wang is passionate about using social media for social good — to spark conversations, build community, and inspire change. This has led her to pursue a variety of career opportunities from education to nonprofit to technology. Connie is currently Social Media Marketing Manager at LinkedIn where she leads overall strategy, empowers internal stakeholders, and manages social communities. She also manages the LinkedIn for Good Foundation which connects employee talent to opportunities they can use their skills and talents to make a positive impact on the world. When Connie is not working, she's eating her way around the world.
Fabienne (Fab) Chanavat
In a previous life, "Fab" was an associate director at the World Economic Forum in Switzerland where she managed a team of data researchers and developed eMarketing processes. Today she is the director of a boutique eConsultancy in Geneva and heads the small Swiss NGO "Kaïcedra" which supports education, health care and opportunities for women in Burkina Faso. Fab is passionate about photography and music. She loves discussing big ideas with friends while eating a home-cooked meal and drinking fine red wine.
Alissa Hauser
Alissa has been in the nonprofit world for more than 20 years and is the executive director of The Pollination Project, a foundation that gives $1,000 seed grants to individual changemakers every day of the year. Prior to her work with The Pollination Project, Alissa was the executive director of the environmental group Circle of Life, and also cofounded and directed a network that forwarded best practices in citizen-driven grassroots organizing. Alissa has worked with clients including Habitat for Humanity International, Slow Food USA, The Pachamama Alliance, Off the Mat Into the World and the Flawless Foundation. In addition to being an advisor to Go Inspire Go, she participates on several other nonprofit advisory boards and boards of directors, and regularly provides strategic and business consulting to nonprofit corporations, artists and small, socially-responsible businesses.
Lee Ann Kim
After more than a dozen years as an Emmy Award-winning news journalist for KGTV, the ABC station in San Diego, Lee Ann turned in her anchor-helmet to take on the San Diego Asian Film Foundation as a full-time executive director of the San Diego Asian Film Foundation. Awarded by the San Diego Film Critics Association with the 2011 Kyle Counts Award for her commitment to cinema in San Diego, she was also recognized as a KPBS Community Hero in 2010 and one of the Top 50 People to Watch in 2009 by San Diego Magazine. She loves films that make her cry and laugh so hard she coughs up a lung. On her list of other top loves – her husband, two sons, dark chocolate, and singing cheesy 80s songs.
Deanna Lazzaroni
Deanna is passionate about social media and the power it has to connect and inspire people around the globe. With Go Inspire Go, it was love at first tweet — Deanna knew she had to be involved and today helps run social media communications for the organization. By day, she leads global social media strategy for LinkedIn's marketing department, elevating the brand to marketers looking to grow their business online. Previously, she led digital and social media marketing for Coca-Cola and originally sparked a love for creative storytelling on the agency side at BBDO and Ogilvy New York. When not nerding out on all things digital/ mobile/ social, Deanna enjoys culinary adventures inspired by Pinterest, yoga and traveling to far off places. Follow her journey through life @digitaldl.
Kim Moy
Kim Moy is a digital content strategist / online editor with 14 years of experience as a web editor and five years as a newspaper reporter. Prior to joining GIG, she was most recently a director of Yahoo! front page editorial programming, where she worked on editorial product innovations such as home page redesigns, content personalization, as well as mobile and tablet editorial products. She also managed editorial programming of the popular Today module on Yahoo's home page, one of the most visited sites on the Internet with 180 million unique visitors each month. She is currently taking a sabbatical to spend more quality time with her two young sons.
Fiona Pattison
Marketing expert Fiona Pattison is the founder of Happy 4 pr, a marketing and PR company with a difference. Having worked with some of the main brands in the U.K., Fiona wanted to give something back to startup and creative companies that were doing something different. Happy 4 pr works with companies, providing them with support and mediums in which to transport their message out into the media and social domain. This is a company that works from the soul. Fiona is one of our international marketing co-ordinators, who is helping to share the message on Go Inspire Go — first stop the U.K.
Sirima Sataman
Sirima has held leadership positions in communications and brand strategy, web marketing and corporate social responsibility for several of the most innovative companies in the world. In these roles, Sirima has led the development of programs and communications that demonstrate an organization's value to its customer as well as its relevance to the community. She has more than 15 years' experience managing interactive media campaigns, integrating print and web marketing strategies and establishing brand identity systems for nonprofits, corporations and industry initiatives. Currently, Sirima is active as a co-founder of Concept Collective, the owner of ink.paper.plate PRESS and board member of the California Society of Printmakers.
Peter Shaplen
Peter Shaplen is a nationally renowned, award-winning journalist and successful business executive. In a career spanning 40 years, he has produced and reported stories for both U.S. and global media, including ABC, CBS, CourtTV, ESPN, FOX, CNBC, SKY News and the BBC. Peter is often engaged for message, media and crisis management for C-level executives at Fortune 50 companies, business leaders and government managers, and for individuals, agencies and law firms preparing for media interviews, website presentations, corporate and judicial appearances or congressional testimony. National honors and recognition include a Mark Twain award from the Associated Press and a Special Award from the Radio-TV News Directors Association. Currently he is an instructor in the Multimedia and Communications department at the Academy of Art University in San Francisco and at the E.W. Scripps School of Journalism at Ohio University.
Marcia Estarija Silva
Marcia Estarija Silva thrives on using social media and online tools to build campaigns that encourage participation and strengthen community. She is a client services manager at BlogHer.com, the leading blogger network for women. Previously, she developed and implemented policy advocacy and communications plans for nonprofit organizations at i.e. communications. Marcia oversaw community relations at craigslist.org and worked in public accounting at Deloitte (formerly Deloitte & Touche). When she's not catching up on social media/tech and pop culture news, Marcia is cultivating home improvement skills with her husband in San Mateo, Calif.
Keely Stevenson
Keely's commitment to social change was sparked by her lessons learned working with people with terminal illnesses as a hospice volunteer in the 1990s. She built on those lessons of appreciation for life through her work over the last decade in the field of social entrepreneurship with experience on five continents. She now serves as the CEO of Bamboo Finance USA, which is a commercial investment firm that specializes in the financing of social entrepreneurship globally. Bamboo Finance is a part of the USD 1 Billion Impact Investment Group, BlueOrchard. Keely joined Bamboo in 2007 after living in East Africa and working with the Acumen Fund. She supported the establishment of Acumen's Nairobi office and provided management support to AtoZ, a producer of anti-malaria mosquito nets, focusing on distribution and pricing strategies in Tanzania. Earlier in her career, she was the first employee hired by the CEO of the Skoll Foundation where she designed grant programs for social entrepreneurs and led the team who created the world's first online community for social entrepreneurs, Social Edge. She was Interim Executive Director of a social enterprise in Peru (ProPeru Fund) and a professional development program for social entrepreneurs in India (Social-Impact International). She has consulted with Triodos Bank on the viability of a social venture fund and devised economic development strategies for the Royal Bafokeng Nation, one of Africa's wealthiest kingdoms. She studied politics at UC Berkeley and earned an MBA at Oxford University. She has lectured at numerous universities and now serves on the board of more than fifteen companies, university centers and social change organizations.
Cynthia Wang
Cynthia Wang is a freelance journalist and journalism educator based in Sydney. She is a full-time instructor at the Medill-Northwestern Journalism Institute, a residential academic program for rising high school seniors, and a contributing editor to the People Premium section of the People magazine website. For 18 years, she was a reporter, writer, associate bureau chief and assistant editor at People, where she covered sports and entertainment and led the television team in Los Angeles. She now also writes for People's sister publication in Australia, Who magazine. Cynthia has served on local boards and on the national board for the Asian American Journalists Association, where she has also been a two-term national treasurer and a recipient of a Member of the Year honor.