Warning: Lethargic homebodies who want to do something to make their homes more fabulous — you may be emPOWered by this post.
You've heard the saying, "You get your home in order and everything else will follow." That is one of THE BIGGEST interior design TRUTHS. But easier said than done, right? You just need that spark to set the fire of action to get your home in order. But the hardest thing to do is get started. This activation episode is designed you to get going, boo.
I promise you, if you take this one small action, it will billow into a beautiful series of design dominoes that will bring you and your home more joy.

So if you're saying YES to this question, this episode is for you: How many of your hearts have been wanting to paint a wall, hang up a lighting fixture or put a photo in a frame?
My question is — what is holding you back? It'll bring so much joy once you do what your heart wants.
It's hard to change up our place because mentally and spiritually, there are lot of emotions tied to our place. Most people won't admit this. That's why it's so friggin' hard to change it up — I get it. But starting small is the best way to not get overwhelmed and see a noticeable difference in your place around you and the space inside you.
But once you do, OMG, it'll be life changing. Here's how to get started…I even donned my super hero cape coat to inspire you to activate:
Take Action
I'm not going to lie, it was difficult to just do it. But once I did, it was like a whole new me.
I've been living in an old, remodeled Victorian apartment for 10 years. The first year, I was afraid to paint the walls and hang up lamps — afraid of making any changes. I was able to trace back why I was thwarted from doing such basic things to my own apartment.
It stemmed from my childhood. We were poor and more concerned about the basics of living vs. buying stuff that had a theme and matched. I was embarrassed of having people over because we slept on mattresses on the floor in a room I shared with my parents and siblings. I was afraid to be me and do anything to any space in any place in my home. WHEW, I told you there's a lot of emotions and memories tied to our home. So change is hard.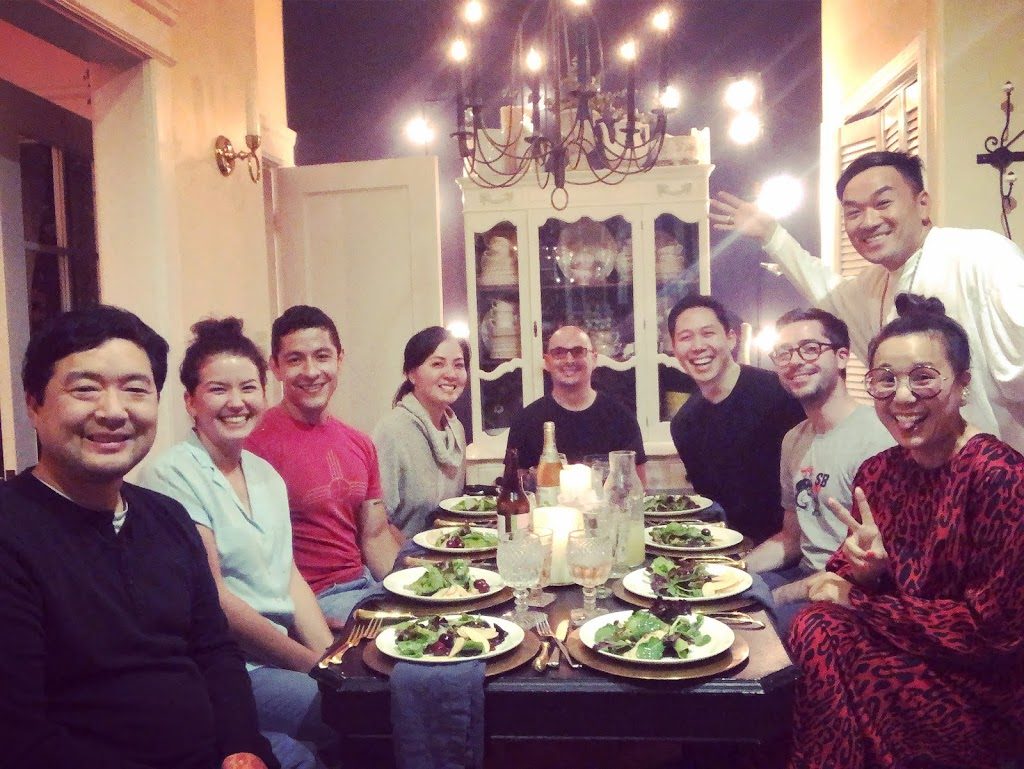 One day in my San Francisco apartment, it dawned on me. Why not? I got this amazing wrought iron candelabra from Craigslist, which was sitting in my room on the floor for about four years. Then, I put it up and every day I look at it, it brings me so much joy and has illuminated and listened in on many dinner parties. It also was a conversation piece and brought many of my guests joy and ambiance eating under its flickering candle lights.
In my bedroom, I finally hung my Anthropologie pendant lamps. I'll share that post on Friday. They've been sitting on the mantle in my bedroom for more than a year.
A few years back, I also painted the walls in my living room and kitchen. The rooms were all originally a pale yellow. I chose to soften up the living room with Restoration Hardware grey. The kitchen accent wall became midnight blue to make the French hutch pop. It looks cool illuminated with string lights at night, too.
I remember redecorating a client/friend's bathroom and she flipped out and was full on stressed when we talked about changing her shower mats. It triggered something in her that she had to work through, but she finally decided to let go of them, which led to a whole bathroom redesign in a Parisian theme. It still brings her joy every time she uses that master bath.
The thing is, when you rearrange furniture, or finally put up that artwork or fixture, you're creating action, moving energy around and changing your perspective. That's healthy for your personal, professional and spiritual life. You just have to decide, take baby steps and activate!
Just do it and you'll see. Promise. You'll see and feel the changes in and around you.
So let's activate now, or never!
I'd love to know your design activation stories. If you learned something new or if you want help with a design dilemma, holler in the comments section below. Sharing is caring, so hit that follow button and share this with your peeps.
Onward,
Toan