You can't read this without feeling that effervescent, inspiring, chilling feeling — the community, humanity pulled through to make this girl's wish come true, thousands of times over.
We all have birthday wishes. Most of the time, we wish for something for ourselves, often the newest, coolest, most gratifying, most personal present we can imagine. Instead of presents, then 8-year-old Rachel Beckwith from Bellevue, Wash., made a simple wish for people she never knew — clean drinking water for residents of third world countries.
Rachel campaigned to raise $300 by her 9th birthday to help CharityWater.org, a non-profit that brings fresh water to developing countries.
Her wish:
"On June 12th 2011, I'm turning 9. I found out that millions of people don't live to see their 5th birthday. And why? Because they didn't have access to clean, safe water so I'm celebrating my birthday like never before. I'm asking from everyone I know to donate to my campaign instead of gifts for my birthday. Every penny of the money raised will go directly to fund freshwater projects in developing nations."
On her birthday, June 12th, she raised $220, just $80 shy of her goal.
Sadly, shortly after her 9th birthday, tragedy struck.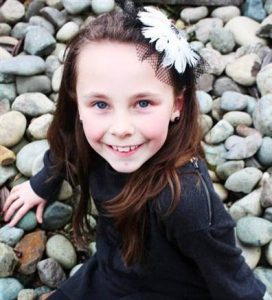 Last week, she was involved in a multiple car crash. On Sunday, Rachel was taken off life support, but her philanthropic spirit lives to inspire people — many of them complete strangers — to chip in and help her achieve her goal.
Members of Rachel's church and the community banded together to make sure her wish came true, and Rachel's donation page was reopened last Friday.
The media shared her story. Her story went viral — her dream continues to grow exponentially.
Monday evening it grew past $140,000 and by Wednesday afternoon, the total soared past the $430,000 mark.
Rachel's mother, Samantha Paul, posted a message Monday on the website: "I am in awe of the overwhelming love to take my daughter's dream and make it a reality. In the face of unexplainable pain you have provided undeniable hope. Thank you for your generosity! I know Rachel is smiling!"
I got goose bumps after hearing about Rachel's story and the chain of humanity and goodwill from strangers. This is a beautiful example of, and testimony to, the fact that we are all one. It makes me think that if we each had the mentality that we're all a part of the same experience of this journey called life, we could perhaps treat one another differently, more kindly, and live with more eager generosity.
Rachel started with her wish to get fresh water out to strangers in need. Then the community and strangers helped her exceed her dream. What are you doing to leave your mark in this world in the present moment? What can you do today to fulfill someone's wishes? What's stopping you from doing it now?