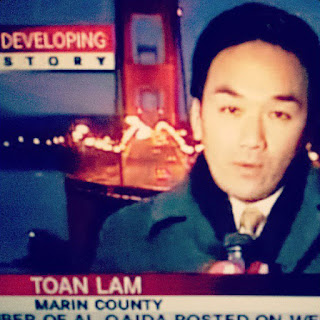 Being a TV news reporter was my dream growing up. I was inquisitive and loved to read, write and talk. Getting information first and sharing it with a mass audience thrilled me. Naturally, getting paid to do this seemed like a plum job. In many ways it was. But after a while, knocking on doors of grieving families, reporting on catastrophes and searching for bad news daily drained my spirit.
I remember a crisp autumn "slow news" day. I was on the computer writing a script for a news report when the police scanners suddenly went abuzz. The producers became frantic. News broke about a school bus accident involving elementary school children.
"Are there any injuries?" a producer yelled excitedly. About 20 minutes later and after some calls to local law enforcement agencies, it was confirmed that nobody was badly hurt or killed.
I clearly remember some news "leaders" were visibly disappointed that it wasn't the big news they had expected. Essentially, the lead wasn't as big of a bleed. As I thought about my career, my reason for going into news was not meeting my zest for using my talents of connecting to people and storytelling — it was quite the opposite. I felt like I had betrayed my calling.
In 2009, right in the thick of the economic downturn, I planned a trip to Peru. I mustered up the courage to tell one of my best friends Yasi that I was going to quit my job in San Francisco after our trip. Thousands of broadcasters vie for the 130ish on-air reporting gigs in the City by the Bay. Some of my mentors and friends advised against it. But it was time for me to stop avoiding the feeling in my gut that a new adventure awaited — my new calling. Here I was plotting my exit. "I'm going to give my two-week notice," I told Yasi with a lump in my throat.
The next day, I walked into the newsroom early with three story ideas ready to pitch at the morning meeting. As soon as I heard an intercom message from the HR department saying, "Toan Lam please come to HR," I knew my thoughts preceded my actions and that the shift was happening.
I was laid off and given a few month's severance. I thought, "A check to tide me over for a few months, yippee!"
I would be lying if I told you I didn't start feverishly looking for my next step – another job. I got some calls but felt like those opportunities didn't align with me internally. Physically, my gut told me to wait it out.
During this transition time I continued do reporting, but out of personal interest. One of the first stories I told was "The People of Tent City." Many middle-class families that lost their jobs started pitching tents across the country because they felt they had nowhere else to go.
Immediately after producing this story, change happened for the people I featured and heroes reached out to help. But the biggest shift happened in me. I was moved that the folks who lost nearly everything were generous enough to share their tents, blankets and bottled water with new tent city tenants.
Through social media, high school students saw the video and were inspired to make presentations about the growing epidemic of homelessness in their community. They held a collection drive with just a few 55-gallon garbage bins. The result: a truckload of basic necessities donated to their homeless neighbors. A dentist reached out and asked me whom he could talk to about giving free dental care to some of the people I featured.
More than 70 videos later, 100+ volunteers and more ripples that I can count, I know this changed the trajectory of my life and led me to my true life's work. I call it "Go Inspire Go."
What I learned here is follow your gut. You don't have to be drastic and leave your job like I did. Start small. Look around. Pay attention. Tell people that you want to volunteer your time. The rest will follow.
Another huge lesson I learned (I tell this to every student and mentee that comes my way) is to be careful what you think. Your thoughts become your words. Be careful what you say because they can become reality. Words can hurt just as much as they can heal. So once you start thinking negative thoughts, zoom out. You're the author of your own book.
What's your gut telling you? How will you rise to meet your best self? We want to know!