I've talked about how to set a casual place setting. I do this every time I eat at home, be it by myself or with my family. Today we are going to step it up and set up a formal place setting. Let's fab it up y'all. Despite what people may think, it doesn't have to take a lot of time to add some extra sparkle.
Here's a little show-and-tell on how to set a formal dinner table:
Take Action
Remember BMW.
B is for bread plate on the upper left-hand side.
M is for meal/dinner plate in the middle.
W is for water cups, wine glasses or to step it up a notch, use goblets (or as I like to exaggerate the pronunciation, "Gob-laaays").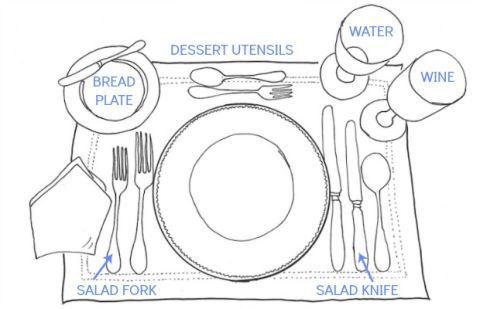 Extra Extra (Pro Tips)
-Add a charger or larger decorative plate under your dinner plate to frame it.
-Cloth napkins make the meal feel more formal. While putting the napkin under the fork would suffice, setting it on the plate gives it a fancier feel.
A formal table setting doesn't necessarily mean the experience has to be stiff and serious. It just feels more fabulous and lifts your spirits and the experience even more.
As I've said, "Set your table, set your intention," to show people you care about them. The whole dining experience changes when you take a little time to add a little detail. It goes a long way and shows your guests you love hosting them.
Enjoy!
Toan
P.S., Put away those cell phones when you're eating 🙂