When was the last time you were inspired by something and, voila, took action on it? Don't you love when inspiration blooms unexpectedly? This creative serendipity is the best.
The latest creative blossom sprouted this past weekend in Sacramento when I was helping my dear friend and soul/style sister Helen with brunch.
I asked if I could set her table while she whipped up eggs, bacon and French toast. Growing up, most of the stuff in my home was mismatched and cluttered. Helen's home — I call her my Martha Stewart — was an inspiration for all my senses. Things matched and had themes, and she took the time to curate the décor.
I appreciated her attention to detail as she warmed up the maple syrup for the French toast. So, I thought I would add my own Toan stamp while setting up the table. I was inspired to create a quick bouquet that paired fabulously with her beautiful brunch. Here's how to add a little fab to your brunch or dinner table (please excuse my sweaty, tank top, in-the-moment appearance. It was hot up in Sactown!):
Take Action
Whether you're buying florals from a farmer's market, grocery store or foraging in your friend's yard (make sure to ask first), these simple tips for arranging an elegant, impromptu flower arrangement will make your guests hungry for more visual inspiration.
1. Cut the flower stems the same length and short enough so the petals hit the lip of the vase. If you're going for a more whimsical boho feel, try different lengths and let them be wild.
2. Clean the stems and remove dead leaves and wilting petals.
3. Pick a bud vase of your choice. In this case, Helen had three: a sugar shaker, salt shaker and a glass-cut vase.
4. Mix in full blooms with some of the flower buds for texture and diversity.
5. Don't throw away the leaf cuttings! I use some to frame the outside of the bouquet.
Voila! You'll have yourself a fabulous, fancy arrangement in minutes.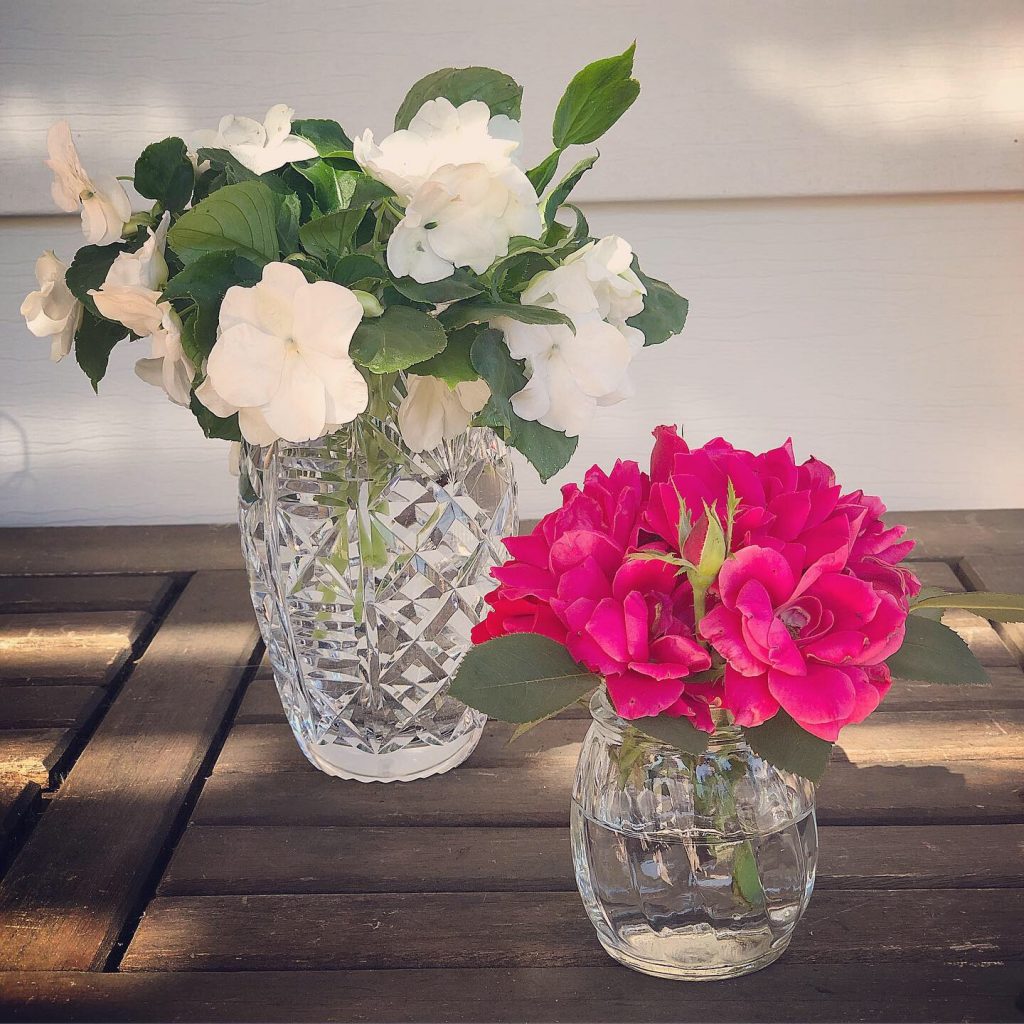 Extra Extra
Don't commit this floral faux pas. Many people jam flowers into a vase and they're done. Take time to enjoy cleaning the dead leaves and blooms, and cutting the stems to fit the vase.
When you slow down, the outcome will show the care you put into the arrangement. Isn't that a metaphor for anything you do in life? Be in the moment. When inspiration hits you, follow through and have fun with it! I'm glad I decided to create these beauties as they brought joy to me and my brunch hosts!
Love,
Toan