What do you get when you gather social do-gooders, add creativity + community + conversation with a splash of social media? A Go Inspire Go (GIG) Photo Walk Flash Mob of course!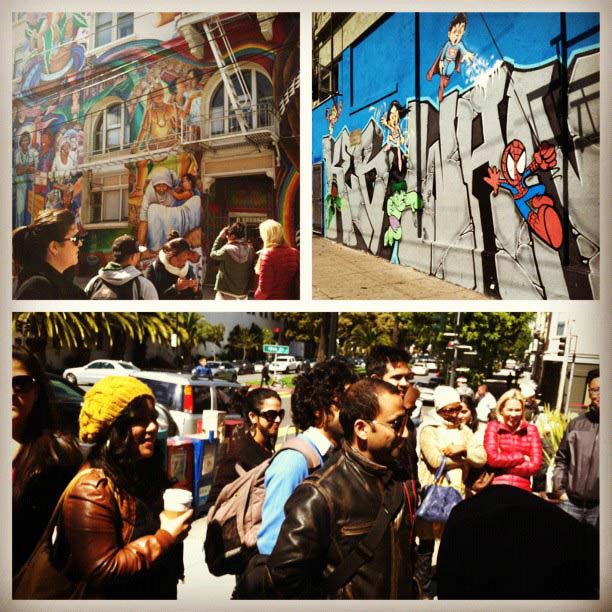 Yesterday afternoon's event was a super fun, innovative way to take our cause offline (sort of off line) and onto the streets of San Francisco to unite current GIGSTERS and meet new ones.
It was also the launch of GIG's global community challenge: "What's your GIG?" We want you to share your inspiring stories, videos and stories with us. The goal: to raise visibility about the inspiring images and stories in your life — and magnify them on our platform for the world to see.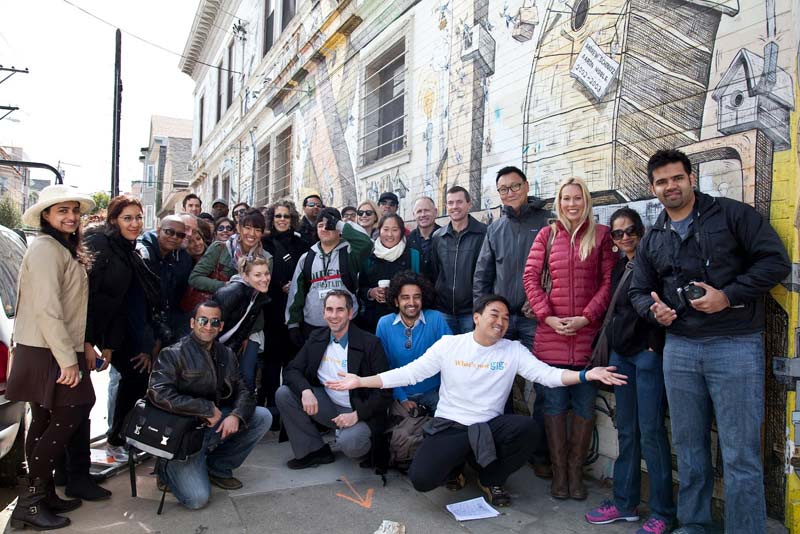 GIG's Elina Fahlgren used Meetup to organize the event. We started in the hip, historic and colorfully diverse Mission District, where after six days of rain, the dark clouds parted and the whole day was as warm and sunny as the new GIG connections.
At 1 o'clock in the afternoon, the empty sidewalk started to fill up quickly with people from all walks of life — a cornucopia of creative participants, ready to meet, greet and hit the streets to take some pictures and spread GIG's message.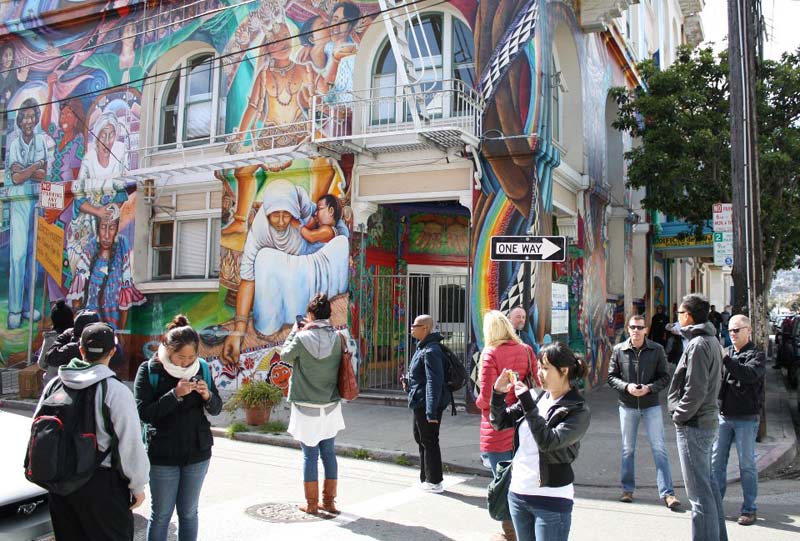 "We noticed people coming along — all kinds of people, young, old, all different ethnicities. Just got us curious," Linnea Larson said enthusiastically about our growing crowd of 39+ people. So naturally, we invited her and her plus one to join us.
Thanks to GIG's volunteer shooter and editor Barbara Grandvoinet for capturing this moment in video:
Our event guidelines were organic — snap pictures and shoot video using Instagram, Facebook and Twitter and Tout.
We zig-zagged about 20 blocks, stopping to play paparazzi on the Mission District's vibrant urban canvas: murals, superhero cartoons spotted, shared and liked.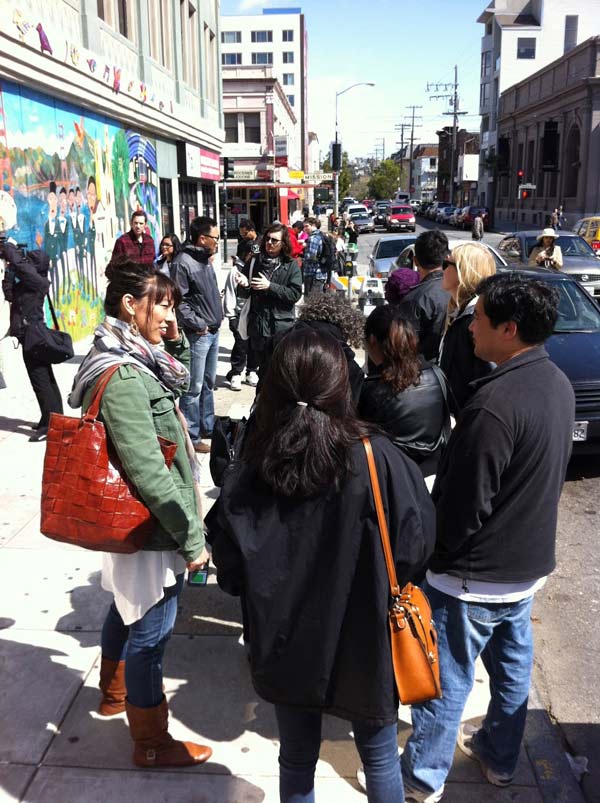 It was great to learn more about new friends like Siddhartha Joshi and Jagdish Chaturvedi, who are currently at Stanford doing a fellowship on Biodesign, looking at designing medical devices which could provide affordable healthcare solutions to the masses. Siddhartha is also an avid photographer and blogger. Jagdish does stand up comedy and theatre as well. WOW. The stories are as endless as the pictures that are trickling in — fun to see inspiration through their lens.
Some familiar faces also showed us some love during our walk. Dr. Ron Holt, a San Francisco psychiatrist who uses his power to inspire equality joined us.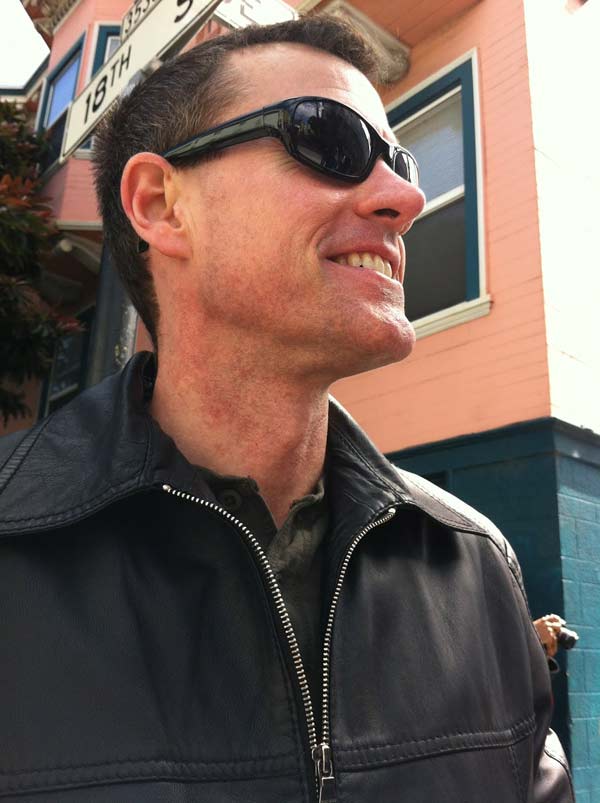 Also, Donald Cooper from Hands on Bay Area snapped some photos, walked and shared what he learned from this sidewalk sojourn. "I think this is great! There are so many things around us that are images that inspire us… if we keep our eyes open, we could catch them and they would really feed our soul." Check out GIG's HOBA video.
GIGSTERS who couldn't join us gave us some virtual love.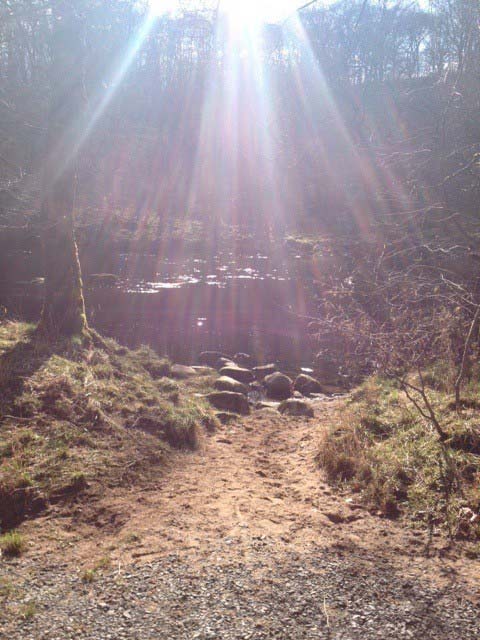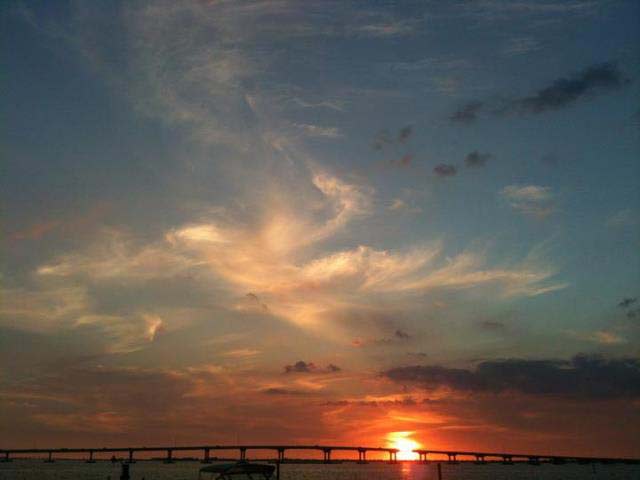 We ended in Dolores Park and snapped this photo. Yes we were jumping for joy!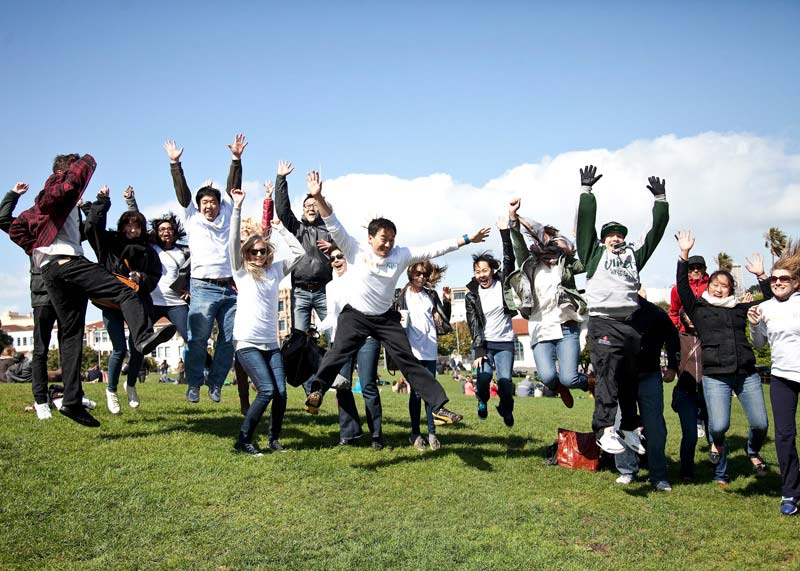 This fun walk — a fascinating experiment in social media, social good and socialization — taught me a lot:
1. Being present. Me and many of my team members have worked and played throughout the Mission District for 10+ years. This time was different, as I noticed things that I would overlook because I wasn't present and didn't see things like the cartoon mural, the powerful images on The Women's Building and the architecture both new and old.
2. This was an interesting experience in using an online/social media medium to connect in person since our GIG team works remotely online most of the time. It was fantastic to meet new supporters and ultimately spread the GIG message and share inspiration. We also have some new volunteers who were inspired to "use their power to help others"!
3. Much like the marvelous sights and sounds we experienced along the walk, we met such interesting people from all walks of life — from students to mediators to non-profiteers — and started new friendships.
What are you doing to create inspiring memories for yourself and others?
1. Engage: What's your GIG Challenge (We want you to share your inspiring pics, videos and story ideas.
2. Share your inspiring pics with us @GoInspireGo on Facebook, Instagram, Twitter & YouTube! Got a story idea? Email: [email protected]
3. Share your pictures with photographer Kat Sloma's Photo Heart Connection Project
Inspiration is all around us. We just have to pay be present.
*Special Thanks to my amazing board members and volunteers who used their power to pull this event together.
Onward!
Toan