If I could choose one quote that defines the ethos of our youth today, it would be, "When you learn, teach. When you get, give." Simple but sweet words carefully crafted by my favorite poet, Dr. Maya Angelou.
This is a bold statement, I know, but hear me out.
Before I was invited to develop curriculum at the Academy of Art's (AAU) Multimedia Department and the University of San Francisco, I too believed that many young folks were apathetic, entitled and not in touch with reality.
Boy, was I wrong. Or as my students would say, "You got moded."
Reality Check #1:
A few years ago, I was given the rare opportunity to build and teach a high school summer bridge program at AAU. I thought that my students would be excited to execute the final I had prepared. "You are going to create a short video on 'hot spots' in San Francisco. It could be a cool place to hang out, shop or eat." I instructed in a sure tone of voice. I thought hands down, students would be stoked.
Instead, hands eagerly went up. The questions they asked changed the trajectory of my stereotypes toward the youth.
One student raised her hand and said, "My mom was so excited that you were teaching us because she follows Go Inspire Go (my nonprofit) on social media." Another student said, "Yeah my friends follow you on Twitter in Sweden. A third student said her friends who live in the Midwest follow our stories. Their collective wish: "Can we do our video on a story for GIG and if it's good enough, would you post it? My heart skipped a beat. Chills ran from head to my feet.
I was taken aback.
Julian Cohen, a high school junior from Jersey City, N.J., saw an article in his local newspaper about a reverend who wanted to build a high school in Grande Saline, Haiti, following the devastating earthquake in 2010. Cohen was sad that there was no high school in Grande Saline and was inspired to make a video to engage action. This led to two youth movements that eventually sent 32 kids to school for one year in Haiti.
This led me to create a GIG program called GIG Spark, Lesson on Compassion. Students think about a problem and how they could be part of the solution. They create a short 90 second video and send it to us to multiply their message.
Reality Check #2:
I'm exited to announce that Go Inspire Go partnered up with The Bayview Hunters Point YMCA, YouTube, the San Francisco Mayor's Office of Civic Innovation and National Youth Radio to create GIG Sparks with youth at the Bayview Hunters Point YMCA. They wanted to make videos that inspire compassion, change and a shift in perspective.
If you watch the local media here in the San Francisco Bay Area, you'd think that this area is only known for its crime, violence and destitution. I found that there was so much hope for the youth living in this area of the City.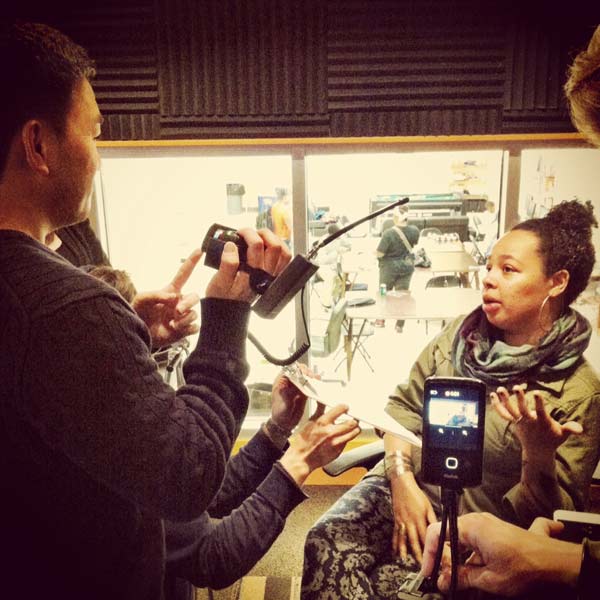 When I spent an afternoon training six of these young YMCA change makers, I was filled with pride. Kier Wilson, Tajae Hill, and Jonkia Davis were amazingly inspiring. They were so proud to call the Bayview Hunters Point their home, but were deeply saddened their neighborhood is viewed as "the ghetto." They wanted to do something to change the negative perception of their community.
Thank you to YouTube and the Mayor's office for inviting us to share our "GIG Spark" as an innovative, organized and fun way to inspire the YMCA kids to accomplish this mission.
* This video was created by four of my students at AAU — youth — who asked to come along on the shoot. Thanks Oscar Nilsson, Marcus Pettersson, Eva Broman and Hugo Albrektsson for your great work!
Reality Check #3:
At the University of San Francisco, my alma mater, I was asked to design and teach a Blogging for Social Change course. On the first day, I asked students, "What is your passion?"
With optimism and determination, one student said, "I want people to get out of their bubble and do something to help the people in their community."
'Nuff said! Amen to that.
As a kid, I felt insignificant. I thought I didn't matter. I didn't feel like I had a voice. What would a Chinese immigrant boy, growing up in a rough South Sacramento neighborhood, say of any importance? Why would anyone care?
I wonder how many youth feel like that today. What if adults took a moment to listen to the youngsters in their lives and hear them out. With a little guidance, support and inspiration, we too could be a part of inspiring a new generation of people who teach what they learn and give what they get!
Take Action:
* Check out "I LOVE Bayview" on Improve SF!
* Share their stories on social media and by word of mouth.
* Volunteer at your local YMCA
Follow us @GoInspireGo on Facebook, Instagram, Twitter & YouTube