Happy New Year! What an amazing whirlwind it has been for us here at Go Inspire Go this year. How exciting is it that we've been getting more story ideas, producing more and creating more inspiring stories that spark action!
Every year, instead of making resolutions, I prefer to do two simple things.
First, count my blessings. It may be easier to write them down so you can physically see them. When you do this, you then realize how abundant your life is, no matter the circumstances.
Here's my list:
1. Most importantly my breath: We all have this to be thankful for
2. Connections to people new and old — this is what we all need to be happy
3. Health, started CrossFit and feeling fit inside and out
4. Community, all of my 90+ volunteers who spend countless hours to bring you this content, my heart is full! Thank you.
5. Simple everyday things: food, shelter, my comfy bed, warm laundry fresh out of the dryer, the faith that I am experiencing exactly what I'm supposed to be going through and am in the perfect place in my life (even though there are challenges, pain and growth) and loved ones who care for me, cry with me and laugh with me. (OK, that's more than five — but there are so many things to be grateful for!)
I dare you to make a list and check it twice mid-year to see what has blossomed.
Second, time to take action and do one kind thing for someone else!
We all can do one thing TODAY to make someone else's life better. Yes, YOU have the power to make a difference both big and small.
Last year, my Go Inspire Go team and I had a crazy idea that has manifested ten-fold. Our goal of spotlighting 50 heroes in 50 states has resulted in numerous blessings, miracles and new friendships. We're so excited to unveil our second hero to you.
This New Year, please count your blessings and do one kind act. Here's a story that will motivate and inspire you!
Man Loans Homeless Family House for a Year
Who: Tony Tolbert, UCLA lecturer & attorney
What: Offered homeless woman and her four children home for one year
Where: Los Angeles
Why: Inspired by Tony's father and family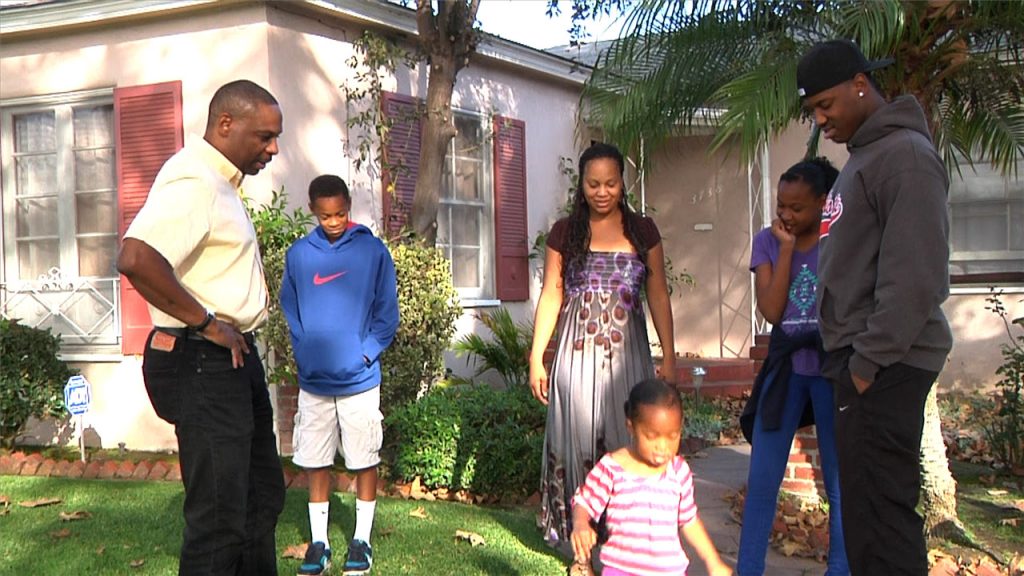 The Catalyst
Many people we know do not believe or know how they can make a difference. "I don't have time" or "I don't have money" are common statements.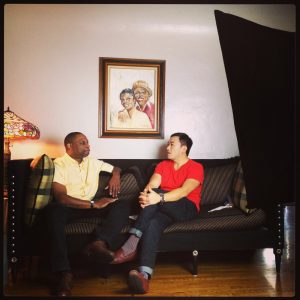 It's refreshing to meet people who seek ways to make a difference. People like Tony Tolbert, a UCLA lecturer and attorney in Los Angeles. Tony read an article that inspired him to think, "What can I do?" and decided to loan his house to a homeless family for one year.
Tony says the seed of generosity was planted early on by his late father, James Tolbert, who always welcomed people (who weren't friends) to stay in their home. "I don't remember a time when there wasn't someone in need, staying in our home." Tony says the story of Kevin and Hannah Salwen of Atlanta sparked action. The Salwens sold their 6,500 square foot house, downsized to a house half its size, and donated more than $800,000 from the proceeds. They wrote a book and named their project "The Power of Half."
"It struck a chord, a visceral emotion," Tony explained. He posed the same challenge to himself that we ask at the end of all of our Go Inspire Go videos and blogs: "What can YOU do?"
Tony's response will inspire you to ask yourself this question and take action.
The Act
Tony decided to give his home — no strings attached, to someone in need for a dollar a month. At age 51, Tony moved back with his mom and gave up his home to a homeless woman and her four children for a full year. "I thought he was out of his right mind," Tony's mom Marie said emphatically.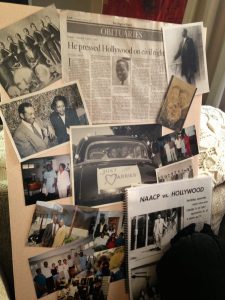 The lucky recipient, Felicia Dukes, a single mother of four, couldn't believe that a stranger could be so generous. Her youngest daughter was one when they were living on the streets. Dukes explained that she fell behind on her bills when she gave birth to her daughter. She turned to Alexandria House, a transitional shelter, but her eldest son, Kima, was unable to live with them because of an age limit. Tony felt Felicia and her family were a great fit because they could live together in his home.
He offered the fully furnished three-bedroom, two-bath home in southwest Los Angeles. "Let this be home for a year," Tony said. "It's yours do what you want, decorate it, enjoy your space."
Tony says this experiment in generosity taught him many life lessons. See how Tony's gesture taught him and Felicia the real meaning of "home."

The Ripples
Stories of giving are infectious and so are the ripple effects. Both Tony and Felicia grew personally and spiritually from this experience. We are excited that Felicia is ready mentally and fiscally to move forward. When people heard about Tony's kind act, they also asked themselves, "What can I do?"
Here are just a few ripples that continue to billow out:
– Felicia and her family have moved out of Tony's home are now living in an apartment on their own.
– Personal performance coach Orlando Bishop with Align Performance voluntarily meets with Felicia to help her identify and achieve her personal and professional goals.
– A dentist learned about this story and donates dental services to Felicia and her family.
– Charysse Tia Harper, with Xplore the World, was inspired to create a documentary on Tony's story. Her crew followed Dukes and her family around for a year.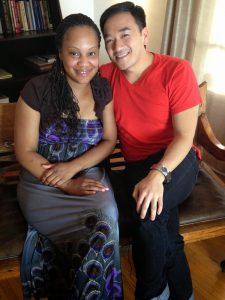 Tony says he will give his home to another homeless family in 2014. He hopes his story will inspire you too. "Most of us want to contribute to something beyond ourselves. Sometimes it requires a reminder that the way we treat people and what we do in the world actually matters," Tony said.
He hopes even more people will be inspired to give what they can this new year.
"You don't have to be a billionaire to make a difference." Tony explained. "We all have something to give to make a contribution to someone else's life. What we do does matter."
Yes, YOU matter. YOU can make a difference. The first step is doing something. All big ripples start from a single action. What can YOU do in 2014 to better the world? We hope this story hit home in your heart. We want to hear about it in the comments section.
Meanwhile, we leave you with this quote from the late Nelson Mandela: "As we let our own light shine, we unconsciously give other people permission to do the same."
What can YOU do?!
Take Action
1. Learn more about Alexandria House and support its great work in helping women and children move from a transitional shelter into permanent housing.
2. Consider what you can contribute (time, skills, resources) that might make a difference in someone else's life.
3. Give or share something (little or big) with someone today.
# # #
For more information on our 50/50 campaign, check out our blog: 50 Heroes, 50 States, 1 Inspiring Journey!
Hit share if you care, please share, Facebook, Twitter, Instagram, YouTube or comment.
Join us & Go Inspire Go…