What started out as a crazy idea is about to become a reality. Our goal of spotlighting 50 heroes in 50 states has resulted in numerous blessings, miracles and new friendships. We're so excited to unveil our first hero to you next week. But read on, and we'll give you a sneak peek.
The seed of this journey was planted five years ago with a gut feeling. You know, that nagging feeling that you should've, would've or could've done something to solve a problem that you've observed in your community?
While reporting for a San Francisco TV news station, that pang continuously nudged me and I responded by creating stories that inspired people to action. The idea was so audacious, ambitious and effervescent.
Change is scary. How would I pay bills, bridge the professional gap in my resume and explain to others?
Fast forward five years later… I made the leap and started Go Inspire Go, which keeps growing and going.
We've produced more than 60 videos, more than 90 people or "GIGSTERS" globally have contributed to sharing stories of heroes and impact. Through our life-changing stories of viewers who discovered their power to help those we've featured. Collectively, my team and I have spent countless volunteer hours researching, coding, designing graphics and producing more than $1 million dollars worth of story content.
There's a lot more work to do.
After many conversations with family, friends and mentors, I saw patterns and created an algorithm: find everyday heroes, spend time to get to know them, tell their stories in an authentic way and leverage social media to inspire action (there are action items at the end of all of our blogs and videos).
Earlier this year, my team and I had an organic idea to take Go Inspire Go to the next level: leverage the power of the people through crowdsource funding to produce and highlight more stories. Our goal: to uncover 50 heroes in 50 states, where we shine a spotlight on everyday heroes. Our 50/50 campaign will spotlight an inspirational symbol of inspiration, kindness and generosity.
The target was to raise $25,000 to create the first batch of stories. Thanks to you and our fabulous team and volunteers (about 45 people), we raised $35,000.
I'm overwhelmed and humbled as I count the miracles and blessings that continue to unfold: the story ideas you send to us, the people that show up to volunteer just when we need them, and the energy you're sending our way.
Through Twitter we met Alissa Hauser with The Pollination Project (TPP), an innovative organization that gives seed grants — $1,000 to individual change-makers every day of the year. Yup, every day! We just had to join forces to hook up our first hero. Oh the power of 140 characters!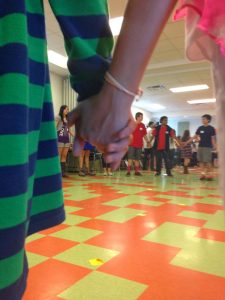 What's the story? Well, you'll have to wait and see, hear and feel all the details. We launch on Tuesday, Nov. 19. Here's a tease: It involves a teenager, peer pressure for good, anti-bullying and the battle against teenage social media mayhem.
This story will change lives. It will save lives. It will also inspire some fun and compassion.
This journey could be summed up in two of my favorite quotes:
"Once you know, you can't pretend you don't." –Oprah
I know that there are everyday heroes out there who need a little boost. Likewise, viewers like you need a nudge to discover your inner superhero so you can take action. Go Inspire Go bridges the gap by entertaining, empowering and inspiring action.
"Oh the places you'll go…" –Dr. Seuss
So what are you waiting for? There are too many heroes to ignore. Won't you join us now? You'll somehow discover how. Hit share if you care, Facebook, Twitter, Instagram, YouTube or comment won't you dare?!
Now that you know… Wontcha join us? Go Inspire Go…