When I was younger, I was constantly chasing after something in my career. I jumped for joy when Randy Winter, former news director at a TV station in Wausau, Wisc., called to offer me my first on-air news gig. I packed up and headed to central Wisconsin after just a phone interview.
Moving away meant missing important dates, celebrations and soirées with my family and friends back in California. I remember working the weekend shift during Christmas and calling home, only to be passed around from family member to family member to say hello. I could almost smell the yummy turkey mixed with the Chinese and Vietnamese food my mom and aunties would bring. Staring outside the station's newsroom window at a cemetery across the street, I had an epiphany — life was way too short to sacrifice so much. But I knew this was the part of the deal when going into the news biz — working crazy hours and holidays.
Eventually, I moved on to Midland, Texas; Fresno, Calif. and San Francisco to chase my dream of being a TV reporter in a big city. Check. Though I had finally achieved my goal, I ended up leaving it during the down economy. I didn't want to report on bad news anymore.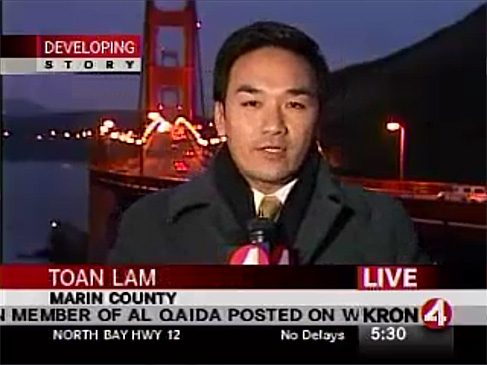 Oprah said, "God can dream a bigger dream for you than you can for yourself." I always tell my students and mentees, "Be careful what you think — your thoughts become your words — and be careful what you say, because what you say has the power to influence yourself and others and it can become your reality."
Now that I am close to four decades old (wow when put like that, it seems like a lot of time has passed) I only want to take on projects that bring me joy. Things like Go Inspire Go, a nonprofit I founded that allows me to meet and tell inspiring stories about everyday heroes — stories that have sparked the hero in readers/viewers across the globe to help the featured person or cause.
I also yearned to work with children and inspire them to be better and do better for themselves and others. Then God/Universe brought me to Kala Shah, my co-hero, to create "Community Heroes," a youth program helping raise the next generation of heroes.
The latest development for Community Heroes is an exciting new partnership with the Institute for Spirituality and Health in Houston to develop a dynamic, open framework "Community Heroes of Houston" program. This video-based curriculum highlights everyday heroes and leverages social media platforms to exercise "the compassion muscle." It's essentially the building blocks to spiritual identity and will help kids grow to their fullest potential.
I also fulfilled my dream of being an instructor at the university level. I teach storytelling at the Academy of Art in San Francisco and have taught at my alma mater, the University of San Francisco.
My passion work also includes a project that nearly completes my list of career dreams — doing something with elders. Aside from working with kids, this is something I've always wanted to do. My paternal grandmother inspired the values, spirituality and a huge shift in me as a person, so I have always had a soft spot in my heart for the elderly.
Last fall, my friend Richard Lui, an NBC and MSNBC anchor, introduced me to the folks at AARP. I teamed up with the organization to create three short documentaries on caregiving heroes in the Asian American community. Stay tuned for more as we launch the doc in New York and San Francisco later this year!
Which brings me back to the topic at hand — chasing, chasing, chasing — something. Recently, I've had conversations with friends and mentees that revolve around the idea of letting things come to you. That doesn't mean sitting on your booty, saying "omm" and thinking things will just come to you on a silver platter. It means doing what is in your power. It might be sending out a resume, making a call or simply telling others about what you are pursuing. When you put it out into the world and if it's aligned with your authentic self, it will manifest. I've stopped trying to go to every networking event, emailing and calling and running around wasting my energy.
I'm trying to go with the flow and if I feel my gut nudging me to do it, I listen. The hard part is being in tune with yourself and honoring the feelings of "No, I don't want to go" or "I should just check it out really quick." As I write this, I'm feeling another chill, another "A ha!" and realizing many of the concerns I had when I was younger were nothing. I was able to check off the goals on my list because they aligned with who I really am.
Growing up poor with an immigrant "can do" attitude, I have been on the go for most of my life. I wanted to be everywhere and do everything. I felt like an awkward swan walking on land when I worry. So I choose to step into a lake and flow.
When I catch myself worrying these days, I do the following:
1. Trust that when the time is right for me to meet someone or do something, God will connect us. I remind myself I'm supposed to be exactly where I am right now. From time to time, I still have to remind myself that it's all good, but I have trained myself to immediately go to that place in my mind when that little worrywart in me comes out.
2. Talk about what I want to do with myself and others and write them down. It really does come together.
3. Time is important, so when I start stressing or worrying about something, I remind myself, "All the universe conspires in helping you to achieve it." That's one of my favorite quotes from Paulo Coelho.
I'd love to hear your thoughts and concerns about why things have or haven't manifested in your life.
Onward and upward,
Toan