Styling shelves can be stressful. Many people tell me they don't have clue a where to start. Here are a few simple tips to tidy those shelves and mantles with style.
Start by pulling everything off the shelves and wiping off the dust. Ahhh. Then follow the steps below:
1. Color — use similar color palettes. I'm lucky the built-in shelves frame the wall in my master bedroom. I put my bed in the middle where the fireplace is situated (for some reason, the landlord filled in the fireplace with concrete). You'll notice that the left side of my shelves are gold and green colored.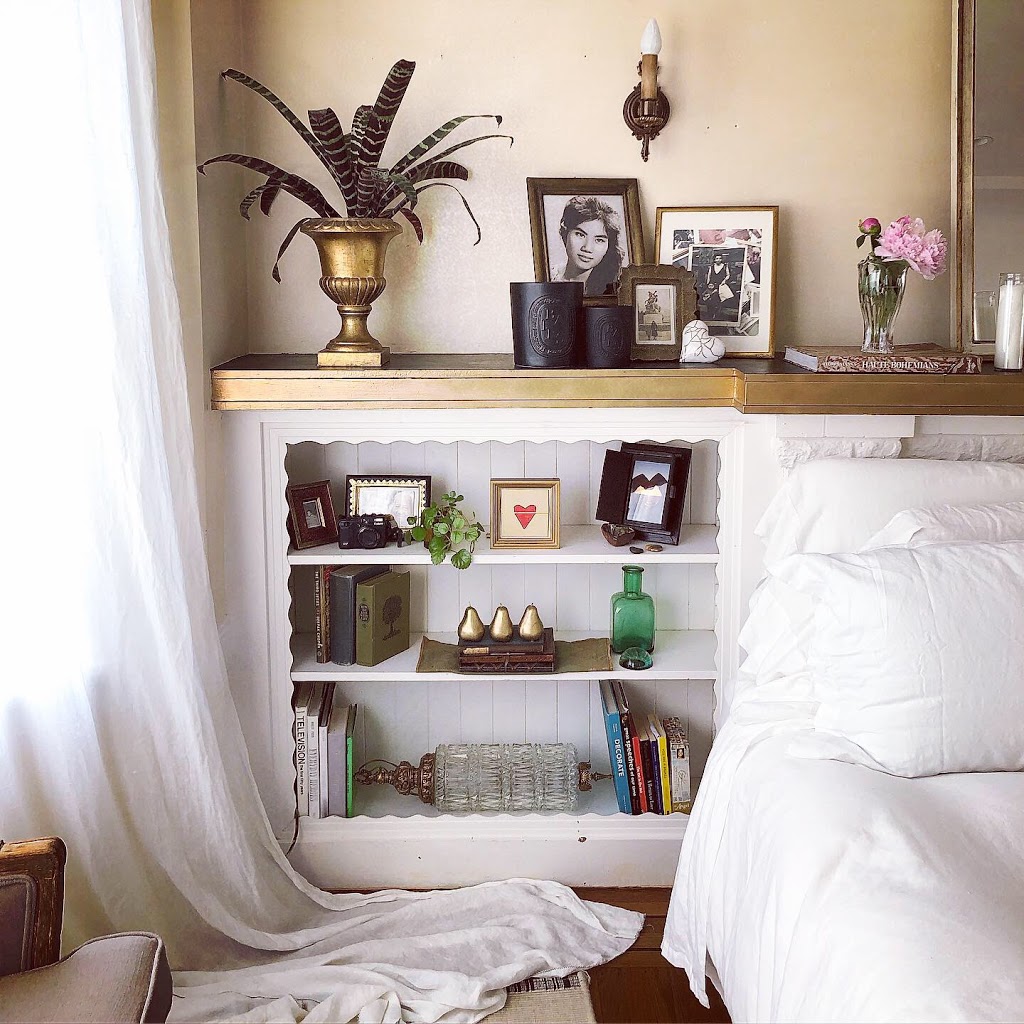 2. Theme — Group similar things together. Hearts are a common theme on my left shelf, while industrial and antiques heirlooms make up the right side. Themes help pull the look together and allow the eyes to rest.
3. Rule of 3s — Cluster things in threes. It'll look less cluttered and is more appealing to the eyes.
4. Edit — What you take out is as important as what you leave in. If the decor or tchotchkes don't fit the color or theme of the shelf, use them in another area of your home.
Why is it important to style your shelves? Besides being pleasing to the eye, it helps declutter and reduce stress.
There are also fewer things to remove while dusting. When you have too many objects laying around, things seem overwhelming, which doesn't inspire us to clean! When you curate a special little place to see all the things that bring you joy, it makes me think about how I'm curating my life overall. Are the people and choices I am making in my personal, professional and spiritual life aligned with my values and beliefs? Where can you and I cut out the stuff and people who don't inspire us to be the best us… and be in the flow?
I'd love to see your before and after pictures of how you've styled your shelves. Please comment below or tag me in your pictures. Use @goinspriego and #styleyourspirit 🙂 Happy styling y'all!
If you learned something new or need help with a design dilemma, holler below. Sharing is caring, so hit that follow button and share this with your peeps.
Onward,
Toan