Do you ever wonder what happens to your partially used soap bars after leaving your hotel?
I've always thought it was such a waste that I only use half the bar or mini-bottle of shampoo, conditioner and body wash. I take them home, then they sit in a zip-lock bag and get old. I always feel guilty for throwing them out.
So when I heard about 17-year-old Raghav Rajvanshy's nonprofit organization, Rcoz, I had to share. His mission: to collect and re-purpose partially bars of soap from hotels and send them to underprivileged communities who do not have access to basic hygiene and sanitation.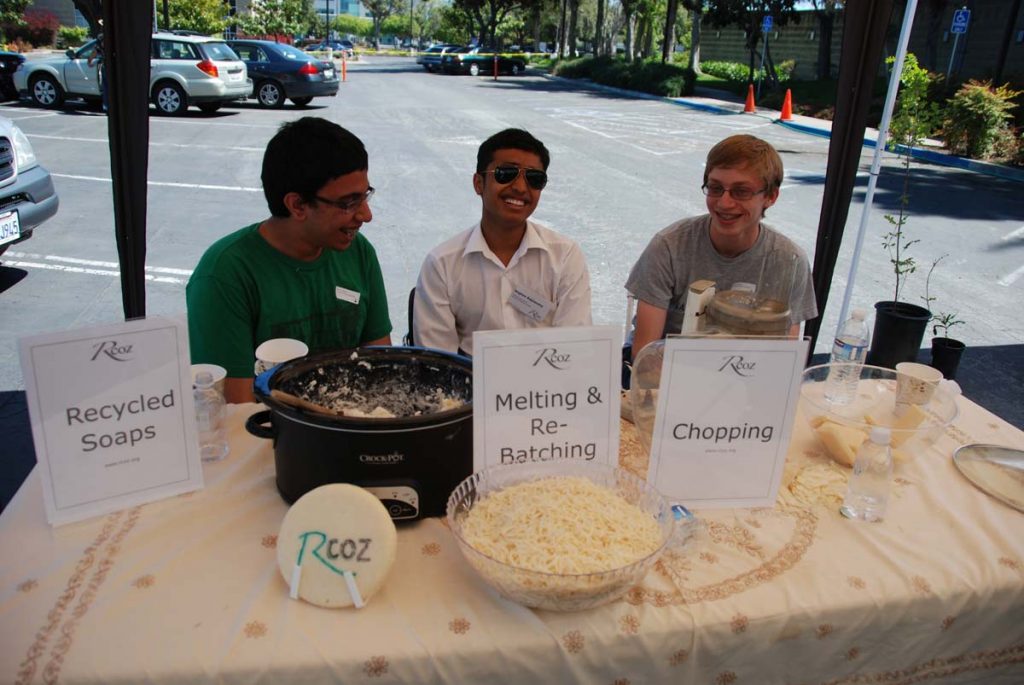 When Raghav was 14-years-old, he traveled to India and stayed at a hotel across from the slums. It didn't make sense that the people living in extreme poverty, didn't have access to basic hygiene and sanitation while many hotel guests were throwing away bottles of partially used soap.
His heart sank when he saw the poor people using ash and sand to wash their hands.
His research revealed the dirty truth. Thousands of hotels throw away millions of pounds of soap daily. Most of the bottles of partially used soap end up in land fills, further contaminating the ground water.
Check out Raghav's GIG Spark (Lesson on Compassion) submission.
* Special thanks to GIG Volunteer Akina Chargalauf who was so inspired by Rcoz's mission, she shot and edited this on her iPhone.
Gigster: Raghav Rajvanshy
Where: Fremont, Calif.
Spark: Don't be wasteful. Be thoughtful and environmentally aware. Join forces with Rcoz to give the gift of hygiene.
His goal is to inspire you to join forces with Rcoz and do a small act — what you can do — to help him provide basic hygiene and sanitation to those in need; to promote social and environmentally responsible practices in the hospitality industry while involving youth and community to help him educate people through his educational campaign to prevent the spread of infection and diseases.
Action always starts with awareness. Like many of us, Raghav witnessed waste, people in need and during a trip to Yosemite National Park, he realized the nature's natural gifts. It made sense for him to do his part to clean up communities in need and the environment. What can YOU do? It all starts with one small act. Go Raghav Go!
How the GIG Spark experience inspired Raghav:
"The GIG Spark experience really had a deep impact on me. I wasn't aware that there are so many other people trying and succeeding in making a difference in the world through simple ideas. One of the things about the GIG videos that surprised me is the variety of issues they cover, trying to solve everything from global warming to world hunger. All of these people truly inspire me every day and motivate me to work harder and harder towards my own goal of promoting global hygiene and improving the environment. I see GIG Spark as a great virtual community of youngsters who can learn and take inspiration from each other to help shape the future of our world in a very positive way."
Holiday Help Needed!
Take action:
1. This holiday, Rcoz will collect and distribute care packages to the homeless in San Francisco, San Jose and Berkeley. They're collecting unused travel-sized toiletries, tooth and toothpaste from your dentist. NOTE: Deadline for this holiday distribution is 12/12/12. Other donations are accepted all-year long.
2. Donate/contribute what you can: Rcoz needs funding and volunteers to:
-Establish relationships with the hospitality industry
-Collect, rebatch and deliver soap
For more information on how you can take action e-mail: [email protected]
3. Spread the word: Share this video! We hope this video inspires you to be thoughtful this holiday season and use your power to help others.
About GIG Spark:
GIG Spark was developed to create compassion through the exercise of brainstorming, problem solving and experiencing the joy of using your power to help others.
About Go Inspire Go: GIG is about inspiring small actions that ripple out to meaningful changes. As we've experienced, the ripples continue to billow out, one story, one person, one act at a time.
FEELING INSPIRED? Make your own GIG SPARK and share with us. We may share it with the world.
As part of GIG's mission to inspire our viewers to discover their power, we developed GIG Spark: A Lesson on Compassion. The goal is to spark action in everyone that witnesses your good deed. We want you to identify a problem in your community and be the change by capturing your action in a short 1-1:30 minute video. Use your passion and creativity to produce a GIG Spark and inspire viewers with your story!
What can YOU do?