What a historic time for equality in America. On Wednesday, June 26, the United States Supreme Court made two significant rulings in the ongoing journey for equal rights for same-sex couples. In a landmark decision, the country's highest court struck down the Defense of Marriage Act (DOMA) and California's Proposition 8.
Now that DOMA was declared unconstitutional, same-sex couples who are legally married in their respective states will soon receive federal protections and benefits, such as Social Security, health insurance and retirement savings.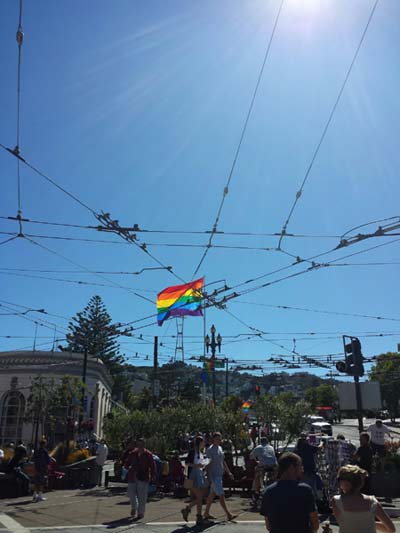 The Supreme Court also dismissed an appeal over Proposition 8 in California, which will allow couples to legally get married without legal bias or discrimination in the Golden State.
Pause to celebrate equality and everyone who has been a part of the change we're experiencing as a nation.
Personally and professionally, we all have the power to do something — big or small — about the inequity we see every day.
Here are four heroes Go Inspire Go is saluting to mark the momentous occasion:
Vincent Pompei, "Vinnie," is someone I am proud to call a childhood friend. He is on the forefront of the fight for equality, working passionately and tirelessly to make schools a safer place for faculty, staff and students.
For the past four years, Vinnie, an educator and activist has organized the Center for Excellence in School Counseling and Leadership conference (CESCal), aimed at creating a safe environment for lesbian, gay, bisexual, and transgender (LGBT) youth.
His list of accomplishments are admirable. He was named a Classroom Superhero from the National Education Association. He was named one of the Forty Under 40 by The Advocate magazine and was honored by Equality California, the largest statewide LGBT advocacy organization in California working to secure full equality and acceptance for LGBT people.
I recently had the honor of attending the CESCal conference, where I was able to witness his amazing work passion, inspiring energy and impact he's had on students, colleagues and strangers.
One of the most important lessons I learned from Vinnie is that no matter your sexual orientation, what you say or don't say is equally as important.
If you hear a student in your classroom say, "That's gay," and you don't make that a teachable moment — other students will think it's OK to use derogatory statements against gays.
A huge congratulations to Vinnie as he was just named Director of Adolescent Well-Being Programs for the Human Rights Campaign, the largest civil rights organization working to achieve equality for lesbian, gay, bisexual and transgender Americans.
Dr. Ron Holt is another GIG hero we've featured. He's a San Francisco psychiatrist on a crusade to inspire equality around the world through educating about the biology of sexuality and spreading his message of authenticity.
I met Ron after University of San Francisco Magazine profiled Go Inspire Go. Both Ron and I are fellow Dons. He sent me an email detailing how he was inspired by my passion around Go Inspire Go. We had lunch and became soul brothers on a mission to inspire compassion. This video is authentic and life-changing:
After we highlighted Ron's story, he told us he was deeply touched by the authenticity of how we told his story. He told us our video saved lives of LGBT youth (who anonymously reached out to him after they saw this video to tell him that he inspired them to be at peace with their truth). The video also helped him get into the spotlight with more speaking engagements and got him invited to the White House!
Hopefully non-judgmental societal bias will soon follow with the help from high profile Hollywood couples.
I recently met and interviewed actor and gay rights activist George Takei, who is known for playing Hikaru Sulu in Star Trek.
George is full of calming energy, wit and wisdom. He is passionate about Japanese-American internment education and the message of equality for all.
"I felt I needed to speak out and let people know it's OK to be who you are," Takei said in his deep, commanding voice. "I wanted it to be in an authentic voice."
When I told George about Go Inspire Go's GIG Spark (Lessons on Compassion), he was on board.
George's message: be true to who you are and treat others as you'd like to be treated.
When Ellen publicly came out, her mom quickly became a visible ally to the LGBT community.
Betty DeGeneres has been a strong PFLAG mom for more than 15 years and is the spokeswoman for the Care with Pride campaign, an initiative to educate and raise visibility on issues related to bullying.
"Clearly, what inspired me to be a strong advocate for safe, welcoming schools for all students — especially LGBT students — was my daughter's coming out. We should do anything and everything to rid the world of these negatives," Betty said.
When I told her that I was there to do a Go Inspire Go video on Vinnie's admirable quest to inspire safe and inclusive schools, she seemed genuinely interested and wanted to know more about GIG. She was on the GIG bandwagon and wanted to share this GIG Spark message to parents and guardians who are blessed with an LGBT child:
You can see where Ellen got her kind spirit.
While we still have a lot of work to do for equality for all LGBT individuals — same-sex marriages are legal in only 12 states — America, I am proud of you.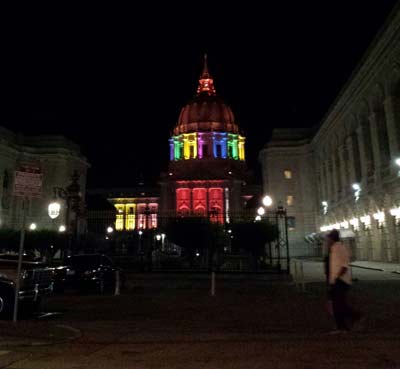 The lowest common denominator of all this equality battle is simple — we all want love, to be loved and to freely love.
What are you doing to inspire equality? We want to know. Share in the comments section. We may just share on Go Inspire Go's social media channels.
Take Action:
1. Feeling alone and isolated? Go to TheTrevorProject.org or call their toll-free & confidential lifeline: 866-488-7386
2. Be a visible and vocal LGBT ally and resource for young people.
3. Get involved! Information on National LGBT resources: Human Rights Campaign, PFLAG, The Trevor Project, GLSEN and GSA Network.
Follow us @GoInspireGo on Facebook, Instagram, Twitter & YouTube