Every guest who spends time at my home, be it for dinner or a sleepover, is a VIP. I love making my guests feel special and having them leave feeling fabulous.
A memorable experience is in the details. Here are some simple things you can do to make your get-together a magical one for your guests:
Take Action
Some ideas to fab up your tablescape for dinner parties:
1. Use fancy or themed paper napkins or linen napkins.
2. Name tags are a way to let your guests know you've thought of them as a special guest without saying they're special. It also helps avoid confusion over where to sit. So awkward when people sit in your seat, no? LOL.
3. Set up candles. It changes the ambience and the lighting gets you in the mood to chill.
4. Layer plates. I like to start with chargers or the decorative frame/plate that your plate sits on. If you are serving salad and soup, layer them on top of each other. So chic!
5. Use goblets. Need I say more? Instead of tumblers and mason jars, fab your table up with some super chic stemware.
6. Centerpieces are essential in basic design. Whenever you decorate any room, there should be focal point or centerpiece that grabs your attention. It could be a fireplace mantle, chandelier or piece of artwork. Apply this idea to your dining table. Place flowers in the middle of the table or be extra festive and add seasonal items like gourds and pumpkins.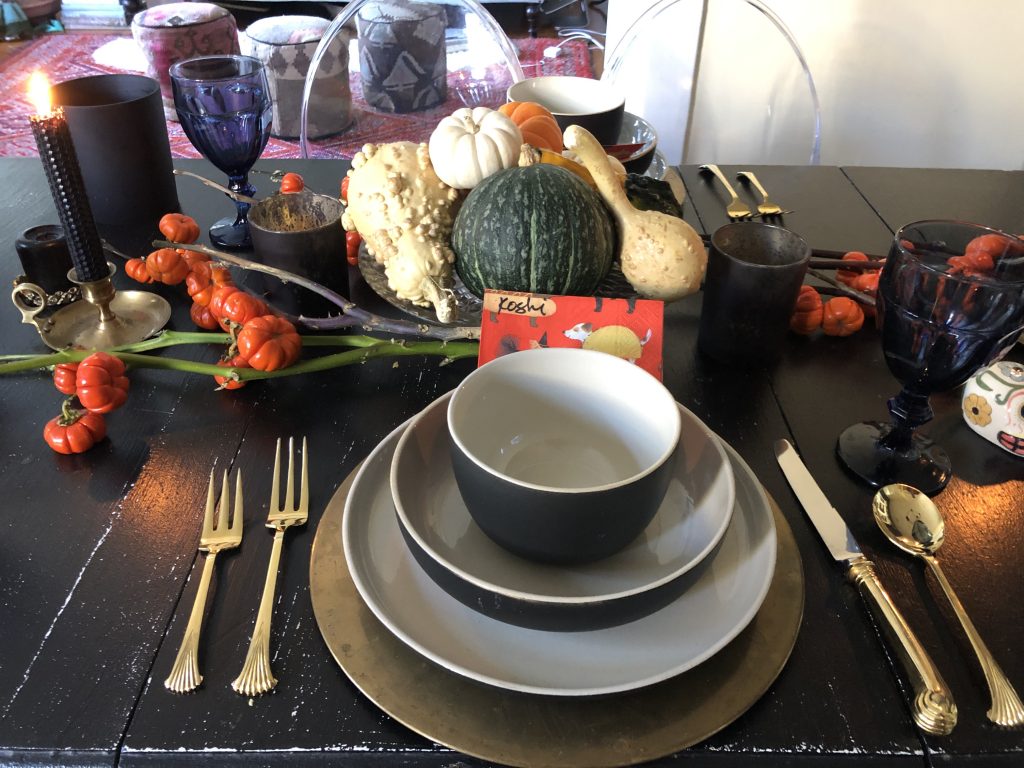 The key is to personalize the experience, be it flowers, candles or goblets or even buying/making your guests' favorite dessert or drink. How do you make your guests feel extra special when they come and spend time in your sanctuary?
Sources: Dog napkins from TJ Maxx, votive candles from Hudson Grace, gourds from Trader Joe's.
Enjoy!
Toan