Ellen DeGeneres makes me laugh out loud every time I watch her and I love that she oozes authenticity. No matter whom she's interacting with, whether it's a push-up challenge with First Lady Michelle Obama or interviewing a regular Joe or Jane she's plucked from YouTube, Ellen seems to genuinely enjoy the human connection. "Fun," "inspiring" and "kind" are words that come to mind when I hear her name.
They're also the same words I would use to describe her mother, Betty DeGeneres, whom I recently met at the Center for Excellence in School Counseling (CesCal) conference. She was there to receive an award for "Excellence in Advocacy for Safe, Welcoming & Inclusive Schools."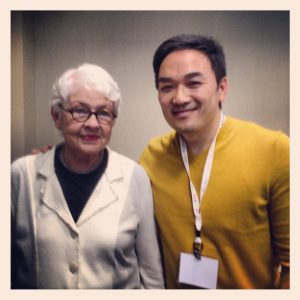 When Ellen publicly came out, her mom quickly became a visible ally to the LGBT community. Betty has continued to be a strong PFLAG mom for more than 15 years and is the spokeswoman for Care with Pride campaign, an initiative to educate and raise visibility on issues related to bullying.
"Clearly, what inspired me to be a strong advocate for safe, welcoming schools for all students — especially LGBT students — was my daughter's coming out. We should do anything and everything to rid the world of these negatives," Betty DeGeneres said.
My childhood friend and LGBT activist, Vinnie Pompei, is a main organizer of CesCal and he invited me to be part of that gathering in San Diego.
When I told Betty that I was there to produce a Go Inspire Go (GIG) video on Vinnie's admirable quest to inspire safe and inclusive schools, she genuinely seemed interested and wanted to know more about GIG. I told her about our GIG Spark (Lesson on Compassion) program. She was a good sport and was game to create this GIG Spark. Her message of equality and love will move and inspire you — especially if you're a parent, grandparent or guardian of an LGBT youth.
After meeting Betty, I could see where Ellen gets her inspiration, authenticity and kindness. It's SO true — that true love knows no discrimination — words to live by.
In the words of Ellen, "Be kind to one another."
Take Action:
1. Don't react when a loved one trusts you enough to come out and show you their authentic self. It's OK if you need a moment — take a deep breather, accept, love unconditionally.
2. Share this blog/video
3. "Be Kind to One Another" –Ellen
Follow us @GoInspireGo on Facebook, Instagram, Twitter & YouTube