In one of the most taboo "Style Your Spirit" episodes thus far, "Breaking Up with Your Place," I talked about how having a relationship with your home is similar to having relations with your boo. It's easier said than done, but breaking up with your place or the stuff in it is essential to moving into a new chapter in your life.
I have a few simple tips that will inspire you to create an aligned place that rises to meet your best self.
The top question people looking to decorate their home is, "Where do I start?"
More importantly, the first thing to ask yourself is, "Does your home tell a story of YOU?"
My lovely expository writing teacher in college once told me, "I love your writing, I could hear your voice and feel your presence even if you're not in the room." I believe this should be translated into your home. Here's how:
So does the place you want to design tell your story? Does your personality show through? We should feel your energy and know what you like (is it music, sports, travel?) even if you're not in the room.
Take Action
So how do you do that?
1. Decorate with details of things that excite you.
I love to travel, so you'll find things I've collected. This alpaca rug is from Peru. Candles and antique pottery are from France.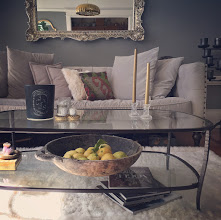 2. Who inspires you?
If you love Audrey Hepburn, your place probably reflects old Hollywood glamour. If you LOVE Lady Gaga, this tells me a lot about your personality, that you're edgy and down to earth.
3. You do YOU boo.
It doesn't matter whether your BFF thinks your pink rug is atrocious. Or if someone thinks an outside planter shouldn't be inside your home. Who cares if the latest trend on social media is, say, reclaimed wood and subway tiles (ain't nuthin' wrong with that, but if it doesn't excite you, simply follow that which brings you joy)? If you love traveling, art, sports or food, decorate with paraphernalia or photos that showcase the stuff you enjoy.
Interior designer Nate Berkus says a home should rise to meet you. LOVE that. The story of YOU, your place, tells me lot about your personality. If you pay attention to your outside space, you'll notice it mirrors your inside place.
It doesn't matter what others think, in terms of your style. After all, you're the one living in it.
So you do you, boo. Design your place that excites you. Who cares if it's on trend or if other people like it if it doesn't reflect you? It's your home, your story.
If you learned something new or if you want help with a design issue, hit me up in the comments below. Sharing is caring, so hit that follow button and share this with your peeps.
Onward,
Toan