I've been grasping for words trying to describe what we all have been feeling collectively these days: "weird," "bizarre," "unprecedented," "uncertain," "fear."
But this particular word didn't come up until a cousin sent me a Harvard Business Review article titled, "That Discomfort Feeling You're Feeling is Grief."
Yes, GRIEF.
How many of y'all are feeling this GANG OF FEELINGS? We are all feeling the adjectives above and grieving so much.
The loss of physical things, security and safety. The loss of normalcy.
I've been doing my best to stay healthy physically, mentally and spiritually since the shelter-in-place mandate in San Francisco 15 days ago. Amid the helplessness, I regained my power by writing and shooting videos — what I call anti-viral vlogs — that I've shared with you to keep your spirits lifted, your body strong and mental health mindful.
Atop these topsy-turvy times, I lost a soul-sister-mentor-friend, Maria Mercader, earlier this week to COVID-19.
With tears welling in my eyes, my heart sinking and energy low, I was heartened to see the light that Maria, a beloved executive at CBS News, shared with so many.
Fighting multiple bouts of cancer over the years, she never once felt sorry for herself or complained. During times of struggle, she would go through the feels and then say, "Soon this will be in the rearview mirror and I'll be back to my normal self."
I know she is in a better place now, shining the light she's always shone.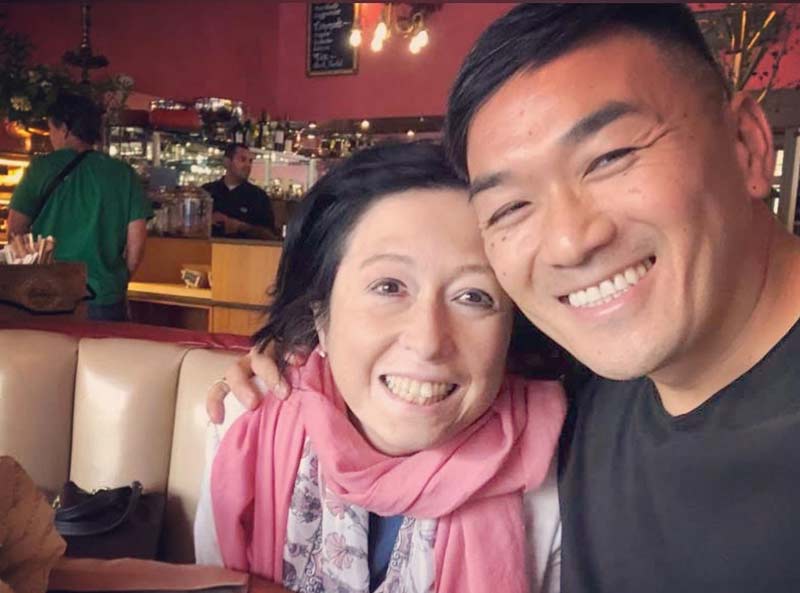 Personally, I've dealt with many losses of loved ones in my life. My best buddy, Jose, died of cystic fibrosis in elementary school. He taught me to love unconditionally and not judge, even those who judge you.
Early in my adult years, four family members passed away in a year's time. That taught me resilience and to chase my wildest dreams, which led to my nonprofit, Go Inspire Go.
There have been other family members, friends and colleagues who are no longer with us. I lost a brother-in-law to suicide a few years ago and am still learning day by day what that is teaching me, y'all.
All of this has reminded me that life is truly short, and not to sweat the small stuff and what you can't control.
Professionally, I've quit and been laid off from places that I had considered "dream jobs." That taught me to value my dignity, self-respect and to trust the unknown.
Spiritually, I've learned that the universe does conspire to move us in the direction that helps us find our best selves. But only if we are mindful, aware and listen to, as Oprah so eloquently said, "the whispers."
While all these were impactful in their own way, there was one golden thread weaving through all of the aforementioned experiences — accepting that it is what it is: GRIEF.
Good Grief, is there such a thing?
So, how do we deal with grief in a "good, healthy way"?
First, I've learned that you need to feel the feels and call it what it is: "Grief." Then take action.
I've been exploring the idea of grief for a while. My good friend Dr. Gladys Ato is a psychologist, thought leader, personal growth mentor, founder of Bridging Consciousness and author of the appropriately titled book, "The Good Goodbye: How to Navigate Change and Loss in Life, Love and Work." She has been one of angels sent to help me grieve the loss of my brother-in-law.
Her book is chock full of gems of wisdom, life lessons and stories that will help shift your perspective when it comes to saying goodbye to things that don't serve you — whether it be a partner, job or friendship that doesn't serve your highest self anymore.
Here's a conversation I had with Gladys about how to say a "good goodbye."
So how do you reach out and help someone in grief? Another wise friend, Marianna Cacciatore, explores the deeply intimate loss of her best friend as a child, how she did and didn't deal with it, and how that led to generosity.
YES, that is not a typo. GENEROSITY.
Her book "Being There for Someone in Grief: Essential Lessons for Supporting Someone Grieving from Death, Loss and Trauma" is worth a read.
Here's my blog and interview with her.
Grief is wicked. Dealing with it in a healthy way is more like a marathon than a sprint.
For me, it's talking with people.
Spending time alone.
Journaling.
Cleaning. Purging. Moving furniture around.
Making a nice dinner party, even if it's just for me.
Finding balance and the good in things.
The present moment.
Letting go of what you can't control.
So what's next?
Protect, but don't overreact.
Be factual, not fearful.
Words. Reading.
The power of connecting with people.
A Changing World
Yes, the truth is, the world is changing and so will your situation. The loss you're feeling is temporary. I promise you, even in my darkest times when I didn't think there was a way out, there was light. I eventually became OK, and then fabulous again.
While we can't know the future, know that you are loved and that you, too, will get through this. Sit with grief. Celebrate the moments and be grateful for what you have now, in the now.
If you're having a difficult time processing and need some inspiration, I've been sharing my thoughts and daily downloads from my meditations or what I am calling "anti-viral vlogs" on Go Inspire Go.
From prayer, changing your state of mindfulness, resetting mentally and physically, to even throwing a fabulous dinner for yourself, I invite you to grab a cup of tea or coffee, and hunker down.
I hope you find some light in these vlogs and that you share the lessons with others.
How are you grieving and saying a good goodbye? Keep going, that is how we keep growing. I can feel that's the message Maria and all who have transitioned from this physical world would want us to do.
Onward,
Toan